Citadel Announces Grand Prize Winners of Citadel Heart of Learning Award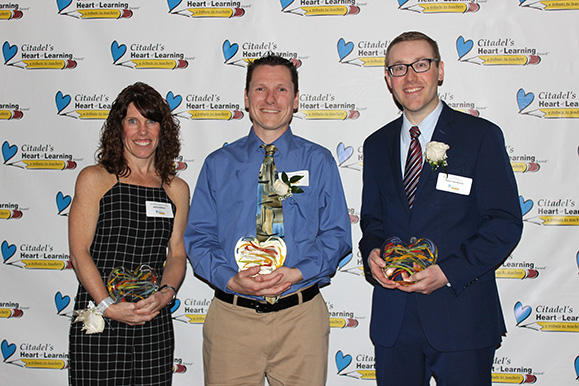 EXTON, Pa.—Citadel has announced the three Grand Prize Winners of the Citadel Heart of Learning Award.
Adam Speakman, Choir Director of Downingtown East High School; William Scott Golightly, English teacher of Phoenixville Middle School; and Kelly DeMillion, Kindergarten teacher of General Wayne Elementary are the official Grand Prize Winners—each winning $1,500 in addition to the $500 they won as District Winners.
Fifteen Chester County teachers were recently surprised at their school; each received the 2018 Citadel Heart of Learning Award as District Winners.
Representatives from Citadel went to 15 schools in Chester County and presented unsuspecting teachers with the Citadel Heart of Learning Award for their school district. These 15 teachers are the District Winners in the overall award program—each has won $500 to use in the classroom.
On Tuesday, May 8 at Citadel's banquet—surrounded by family, friends, and their district administrators—the teachers were all honored and the three Grand Prize Winners were announced.
This year marks the 17th annual Citadel Heart of Learning Award program, established by Citadel and the Chester County Intermediate Unit to honor, recognize, and thank outstanding teachers in Chester County. This year, Citadel received more than 2,300 nominations for more than 1,100 teachers.
"We are proud to honor these tirelessly dedicated educators," said Mike Schnably, senior vice president, Citadel. "Each year it's an extremely special celebration. Citadel is thrilled to recognize the teachers who are molding the youth of the Chester County community."
The District Winners for the 2018 Citadel Heart of Learning Award include:
HIGH SCHOOL WINNERS
Adam Speakman
Downingtown Area School District
Downingtown High School East
Cynthia Hyatt
Tredyffrin/Easttown School District
Conestoga High School
Jason Ralston
Octorara School District
Octorara High School
Peg Tinder
Owen J. Roberts School District
Owen J. Roberts High School
Scott Wooddell
Oxford Area School District
Oxford Area High School
MIDDLE SCHOOL WINNERS
Andrew Stine
Twin Valley School District
Twin Valley Middle School
Jackie Knight
Kennett Consolidated School District
Kennett Middle School
Kera Romero
Non-Public/Charter
21st Century Charter School
Mike Walls
Chester County Intermediate Unit
Coatesville Learning Center
William Golightly
Phoenixville Area School District
Phoenixville Area Middle School
ELEMENTARY SCHOOL WINNERS
Barb Wilson
Coatesville School District
Caln Elementary
Curtis Barr
Unionville-Chadds Ford School District
Chadds Ford Elementary
Kelly DeMillion
Great Valley School District
General Wayne Elementary
Lauren McManus
Avon Grove School District
Avon Grove Intermediate
Mary Daniels
West Chester School District
Hillsdale Elementary
The heartfelt nominations for these 15 teachers—submitted by students, parents, community members, and colleagues—were read aloud during the surprise presentations.
CONTACT:
Abigail Brooks
(610) 466-6896
AbigailBrooks@CitadelBanking.com
###
About Citadel Credit Union
Citadel Credit Union is a not-for-profit, member-owned financial institution that provides banking, investments, and insurance services to more than 255,000 members. At $5.7 billion in assets, it is one of the Greater Philadelphia area's largest credit unions, proudly serving residents of Bucks, Chester, Delaware, Lancaster, Montgomery, and Philadelphia counties. Citadel is recognized as a 2023 Fortune Recommends Best Credit Union, Forbes 2022 Best-in-State Credit Union, and a certified 2022 Great Place to Work. For more information, visit CitadelBanking.com.
Learn more about the Citadel Heart of Learning Award.
Learn More