Citadel Announces 2017 Citadel Heart Of Learning Grand Prize Winners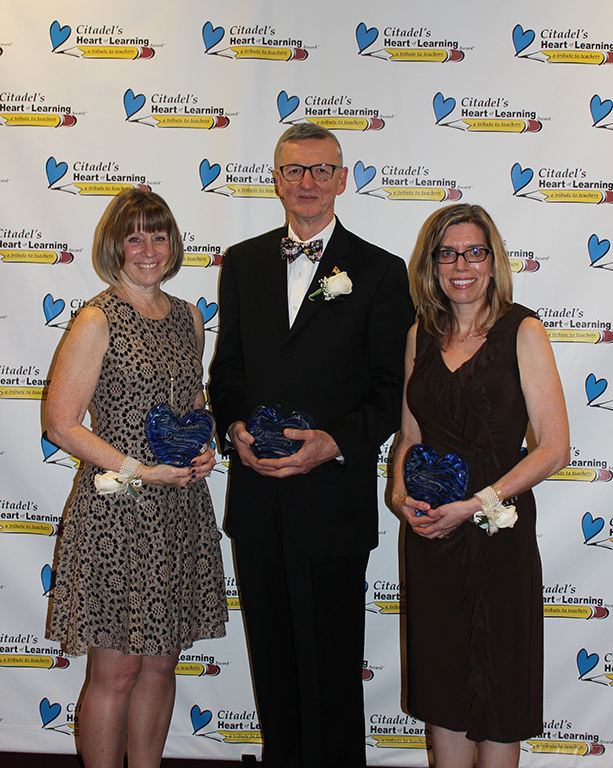 EXTON, PA — Citadel has announced the three 2017 Citadel Heart of Learning Award grand prize winners. Each winner was awarded $1,500 to use for classroom supplies and other instructional resources in addition to the $500 they each received as District winners.
High School Category:
Jerry Nowak
Downingtown West High School
Jerry Nowak has taught Introduction to Manufacturing/Wood Shop at Downingtown West High School for more than 40 years.

One nomination for Jerry reads, "This teacher has deserved this award since my husband had him in the 80s. Our son was fortunate to have him last year in Wood Shop. He teaches students functional skills that they will need regardless of higher education or profession choices. He even teaches them slow dancing after school to prepare for proms. Both my husband and son have commented that he gets to know his students on a personal level and shows genuine interest in their out-of-school interests and hobbies."
Middle School Category:
Cindy Diffendall
West Chester School District
E.N. Peirce Middle School
Cindy Diffendall has been teaching for 16 years. She teaches 7th grade social studies at E.N. Peirce Middle School. Cindy donates her own personal time to students, including taking the time to mend and wash clothes for them.

One nomination says Cindy "Takes a special interest in each student, but focuses on her struggling students. She finds the way they learn best, and then she works with them by volunteering her lunches to help them along."
Elementary School Category:
Carol Petersen
Twin Valley School District
Twin Valley Elementary Center
Carol has been teaching for 24 years. Currently, Carol works between four different schools in the Twin Valley School district as a K-5th Gifted Support teacher.

One of her students says, "I distinctly remember working on animated children's stories with her. She was always willing to take the time to make sure I understood what was going on, but was not afraid to push me beyond my comfort zone. I only got to work with her for about a year, but she gave me more confidence in my own ability and intelligence going into middle school."

The Citadel Heart of Learning Award was developed by Citadel and the Chester County Intermediate Unit in 2001 to recognize, reward, and thank the outstanding teachers in Chester County. This year, Citadel received more than 2,200 entries for more than 1,100 teachers. To learn more, visit CitadelHeartofLearning.com.
###
About Citadel Credit Union
Citadel Credit Union is a not-for-profit, member-owned financial institution that provides banking, investments, and insurance services to more than 255,000 members. At $5.7 billion in assets, it is one of the Greater Philadelphia area's largest credit unions, proudly serving residents of Bucks, Chester, Delaware, Lancaster, Montgomery, and Philadelphia counties. Citadel is recognized as a 2023 Fortune Recommends Best Credit Union, Forbes 2022 Best-in-State Credit Union, and a certified 2022 Great Place to Work. For more information, visit CitadelBanking.com.