Building Strength With Security
Security Alerts & Updates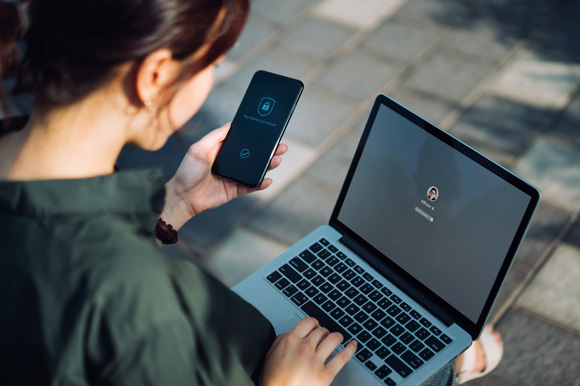 Citadel Credit Union monitors your accounts 24/7 for suspicious activity, and we update you immediately if something is detected. In addition, we're dedicated to keeping you informed about any new security threats or scams targeted at consumers. We offer several resources to keep you up-to-speed on security, along with tips to help you protect your accounts and information. Find any updates and alerts related to security issues here.
Text Message Scams
Recently, there have been several reports of members receiving spam text messages from phone numbers that are unaffiliated with Citadel Credit Union. In some instances, they mention Citadel in the text, other times they do not. The message typically suggests that there may be fraud appearing on a member's account and to text back a reply. After the member responds, the fraudsters advise the account is locked or restricted until the member hears from them. The fraudster then calls to assist with the alleged problem and asks the member to send them a secure access code or One Time Payment (OTP). Since the member is under the assumption that this is to resolve the "fraud issue", they provide the code, even when the SAC code says not to share that information with anyone. The fraudster then sets up a mobile wallet and begins using the member's account to make multiple purchases.
Ways to Avoid Text Message Scams
Do not provide personal information to a caller or text message: Citadel will never call or text you and ask for personal information. Contact Member Care immediately if someone says they are from Citadel and asks for any information such as your account numbers, social security number, or address.
Maintain a heightened level of suspicion if you weren't expecting the call or text message: If you were not expecting a call or text message from Citadel, be extra cautious. If you feel uncomfortable with the conversation, end the call immediately and call Citadel Member Care at (800) 666-0191 or visit a local branch.
Filter unwanted calls or text messages: Your phone may have an option to filter and block messages from unknown senders or spam. Block texts or calls from an iPhone. Block calls or texts from an Android.
Text scam example: Remember, although a text may claim it is from Citadel, fraudsters can spoof their messages to look like it is coming from Citadel or another financial institution. Please remember that Citadel will never ask you to verify your personal information. DO NOT give out your account number, debit/credit card number, or Social Security number to a fraudster texting you like the example below. Be aware, the phone number doesn't belong to Citadel and the criminals are seeking a great deal of private information in order to steal your identity and money. In addition, the text may tell you to click on a link to learn more about the issue. These links may take you to a spoofed website that looks real but isn't. If you log in, the scammers can then steal your user name and password.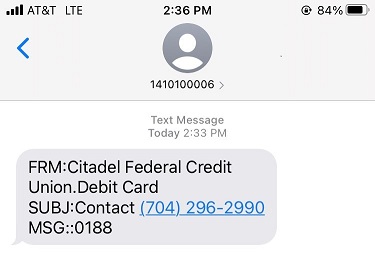 Ways to Report Text Message Scams
Contact a representative from Citadel's Member Care Team.
Copy the message and forward it to 7726 (SPAM).
Report it to the Federal Trade Commission at ReportFraud.ftc.gov.
4 Cryptocurrency Scams to Watch Out For
If you're thinking about investing in cryptocurrency, you need to be aware of crypto scamming. Learn how to avoid crypto scams with Citadel. | Full Article
Ponzi Schemes vs. Pyramid Schemes: What Are They and How Can You Protect Yourself
Investing money requires careful consideration, especially with Ponzi and pyramid schemes being so prevalent. Learn how to spot them. | Full Article
What to Do If You Get a Phishing Text
Learn how to identify a phishing text and ways to protect personal information against fraudsters. | Full Article
Financial Fraud Is Growing in the Pandemic—Here's How You Can Protect Yourself
To help you avoid having your information compromised, we've gathered some insights on what pandemic scams to look out for, and how to get ahead of them. | Full Article.
The Biggest Fraud Scams of 2020—and What to Learn From Them
As they grow in sophistication, fraudulent attacks are harder than ever to recognize—especially when you have so much else on your mind. That's why we've put together a list of some of the most prevalent scams of 2020, alongside some key learnings. | Full Article.
How to Prevent & Report Vishing Fraud
Because of their lack of quality or exaggerated claims, these calls can sometimes be easy to identify for what they are—but that doesn't make them any less intimidating. Criminals have refined their approach, pretending to be institutions of high authority and scaring individuals with significant consequences. With this in mind, the best thing we can do is be prepared. | Full Article.
3 Tips for Preventing Credit Card Fraud
At Citadel, we are committed to keeping our members' accounts secure. To help, we offer some suggestions for how to prevent credit card fraud and keep your hard-earned money safe. | Full Article.
How to Identify & Avoid Fraud Attacks
Fraud attacks are unfortunately always a threat, and are more common right before and during the holiday season. Criminal fraudsters will attempt to collect information to capture an identity and ultimately access to a consumer's bank account. | Full Article.
Citadel is dedicated to protecting the finances, privacy, and data of our members.
Learn More