Why You Should Get a Cashback Rewards Checking Account
Category:
Personal Finance 101
Topic:
Saving Money
Personal Finances
Managing Finances
At each stage of life, the average American is putting money away towards a specific goal. Whether they're saving for a trip, a new car, a new home, or retirement, people are constantly trying to make the most of the dollars they've worked hard to make. But saving isn't easy. Often life and its various expenses get in the way, making it difficult to actively contribute to your savings.
One financial tool that can make saving much easier is a cashback rewards account. A cashback program is a compensation-based product, embedded into a credit or debit card, that pays back a percentage of the amount of a qualifying purchase to the cardholder. This amount is automatically deposited into their account, making it easy to put a bit of money away every time you spend.
Why Cashback?
For people who use their debit cards for everyday transactions, a cashback checking account is like an automated piggy bank with built-in interest. With Citadel's Cashback Rewards Checking Account, you can get 1% cash back on all qualifying debit and credit transactions—including groceries, retail, and transportation.
With this instant return on your spending, you might be able to finally get that pair of shoes you've had your eye on, or buy an extra special Mother's Day gift this year. If you are working towards a longer-term saving goal, the funds can easily be transferred to your savings account or contribute to your wedding or house funds.
Most cashback rewards programs offer rewards on credit card transactions. Since many Americans use credit cards for big ticket purchases, this often results in a larger amount rewards earned. But a small amount of cash back per transaction isn't particularly helpful if you're overspending on a whole—a trend reflected in the fact that over 50% of Americans spend their entire income (or more). The benefit of a cashback checking account, is that you are limited to the amount of money available to spend —so you're less likely to overspend. With a cashback checking account, you reduce the risk of putting yourself in debt for the sake of earning rewards and you can better guide your spending decisions.
Open a Citadel Cashback Rewards Checking Account today!
Get Started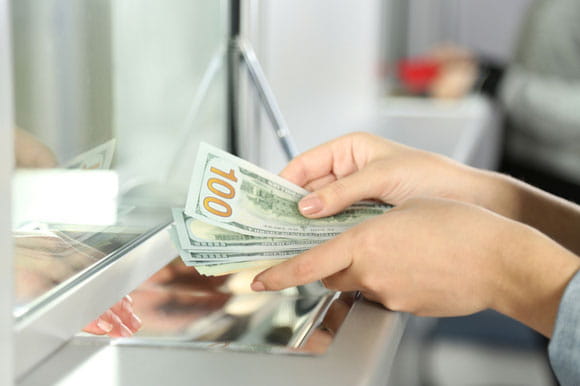 How to Maximize Your Rewards
There are many things you can do to optimize the benefits offered by your cashback checking account.
To start, you can take advantage of one-time rewards. Cashback checking accounts often have sign-up incentives to attract new customers.
Once you've transitioned to a cashback checking program, you can make the most on what you spend by using your card to pay for your monthly bills and expenses, such as groceries, utilities, cable, subscriptions, rent, and more. You can also use online and mobile banking tools to set up automatic payments, so you never miss a payment.
If you do rely heavily on your credit card for much of your monthly spending, you can look for opportunities to link your debit and credit card rewards. Citadel's Cashback Rewards Checking Account allows you to link your Citadel credit card to your checking account, so you can earn Cashback Rewards on all qualifying credit and debit card purchases. You can use this linked credit card to make big transactions for the likes of tuition, car payments, and appliances in order to maximize your rewards.
Lastly, continue using your cashback rewards account for everyday purchases like your morning coffee, lunch with your colleagues, or a quick stop at the mall. This will help you maximize the value of your rewards on a monthly basis and contribute to your saving goals.
Consider All Your Options
While most of the large, nationwide banks in Pennsylvania offer cashback rewards programs, these typically take the form of credit cards. As such, their checking accounts are not designed to support saving in the same way.
At Citadel, we understand how important saving is to you and we strive to deliver innovative ways for you to do this. We have recently launched our Cashback Rewards Checking Account, which can support you in reaching your saving goals as you go about your regular spending.
Contact Citadel today to learn more about this account, or visit our FAQ page to answer any questions you might have.
Compare our credit cards and find a card that meets your everyday needs.
Explore Now
*Cashback Rewards Checking Account Disclosures
View *Cashback Rewards Checking Account Disclosures
Information accurate as of and is subject to change without notice. All rates expressed as Annual Percentage Yield (APY). Minimum daily balance to earn APY is $5,000. Fees may reduce earnings.
Balance Requirements:
To earn Cashback Rewards and avoid a $10 monthly service fee, one of the following criteria must be met:
Receive monthly qualifying direct deposit(s) into your Cashback Rewards Checking totaling $1,000 or more OR
Maintain an average daily balance of $5,000.00 in your Cashback Rewards Checking Account
A qualifying direct deposit is defined as a recurring direct deposit of payroll, pension, Social Security, Government benefits, or other regular monthly income, electronically deposited into the account. Internal or external transfers from one account to another, mobile deposits, and deposits made at a banking location, ATM, or through Online and Mobile Banking do not qualify as a direct deposit.
Earn Up to $120 in Cashback Rewards Annually:
When Cashback Rewards transaction requirements are met, earn 1% cash back on Citadel debit and/or credit card purchases that post to your account each statement cycle. Maximum Cashback Rewards: $10 per month. Cashback Rewards will be calculated at month end on net purchases (purchases minus any credit or returns). ATM withdrawals, credit card cash advances, and credit card balance transfers are not considered purchases and will not earn Cashback Rewards. A Citadel debit or credit card must be linked to your Cashback Rewards Checking account to earn Cashback Rewards on purchases. Each Citadel debit or credit card may only be linked to one Cashback Rewards Checking account. When Cashback Rewards Checking balance requirements are not met, Cashback Rewards will not be earned.
Full balance of available Cashback Rewards may be redeemed at any time during the year through Online and Mobile Banking, Citadel's Mobile App, or by contacting Citadel. Partial redemptions are not allowed. Cashback Rewards not redeemed by the account anniversary date will automatically be deposited into your checking account during the following statement period. Earned Cashback Rewards can only be deposited to your Cashback Rewards Checking account. Account must be active and in good standing at time of cash back redemption.
Up to $120 Cashback Rewards Match:
After the first 12 months that your Cashback Rewards Checking account is open, we will match the Cashback Rewards you have earned. Your Cashback Rewards match will automatically be deposited into your Citadel Cashback Rewards Checking account during the following statement period. If your account is closed or you switch to another Citadel checking product prior to the end of the 12th consecutive statement period, your Cashback Rewards will not be matched. The account must be active and in good standing at the time of Cashback Rewards match processing.
Additional Account Information:
The Cashback Rewards Checking Account is not available for business accounts or public funds. Limit 5 Cashback Rewards Checking accounts per member. Cashback Rewards Program may be modified or withdrawn at any time.
Monthly Inactivity:
A $5 monthly inactivity fee will apply if there is no activity on any Citadel account for one year – this fee is waived if the combined balance of all deposit accounts is $500 or more. Inactivity is defined as a 365-day period during which there were no customer-initiated transactions on any Citadel account.
Important Information about Overdrafts and Overdraft Fees:
An overdraft occurs when the available balance in your account is not sufficient to cover a transaction. Citadel offers several options for you to avoid the potential embarrassment and extra expenses caused by a bounced check or insufficient funds. These include:
Transferring funds from a Citadel Savings and/or Money Market Account
Advancing funds from a Citadel Personal Line of Credit
Courtesy Pay
As a Citadel member, if you have a checking account and qualify, you will automatically be enrolled in Courtesy Pay when you open your account. If you wish to use one of the other options, which may be free or less expensive than Courtesy Pay, you can sign up at any time. To learn more, please ask a Citadel Representative. For a complete list of fees associated with overdrafts, please refer to Citadel's fee schedule.
This notice refers to our Courtesy Pay program:
Citadel offers Courtesy Pay for its members and may pay overdrafts for the following types of transactions:
Checks
ACH withdrawals
Bill Payer payments
Recurring debit card transactions (e.g., monthly payments debited from your account)
We pay overdrafts at our discretion, which means we do not guarantee that we will always authorize and pay any type of transaction. If we do not pay an overdraft, your transaction will be declined and not paid.
If you want to use Courtesy Pay to pay overdrafts for one time, everyday debit card transactions (e.g. Starbucks®, Home Depot®, grocery stores, gas stations, etc.), you must opt in and give us your permission. You can opt in by:
You cannot use Courtesy Pay to pay for overdrafts on ATM withdrawals.
When you use Courtesy Pay, we will charge you a fee of $33 each time we pay an overdraft. There is no limit on the amount of total fees we can charge you for overdrafting your account. Any fees charged will count against your Courtesy Pay limit. For information on Citadel's check clearing policies, please contact us at (800)-666-0191 . You can opt out of Courtesy Pay at any time. Please visit any branch, or contact us at the toll free number above.
Federally Insured by NCUA.