The Process of Buying a House
Topic:
First Time Home Buyer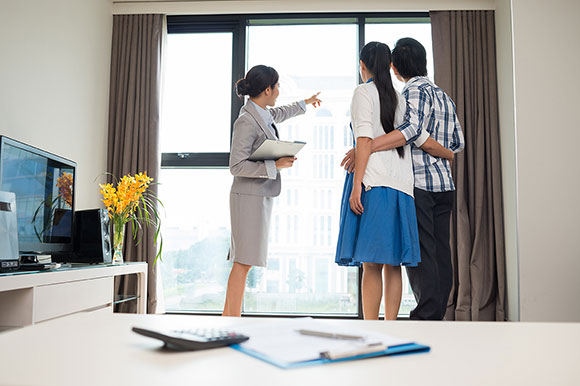 In This Article
• Improve Your Credit
• Set a Budget
• Find Your Best Financing
• Start Shopping
Warm weather is perfect for swimming, barbecuing and buying a house. In spring, many new properties are listed, so choices abound. Then summertime motivates sellers with homes still available to make great deals. But homebuying can become overwhelming if you go in blind. These five steps can help get you into a home of your own with a minimum of stress.
1. Improve your credit
What's the most effective way to get the best possible home and neighborhood? Surprisingly, it's improving your credit. Higher scores mean better mortgage rates and terms, which can dramatically boost your buying power. For top scores:
• Pay all bills on time.
• Don't apply for more credit than needed.
• Carry a mix of debt types.
• Try not to charge more than 20% to 30% of credit limits.
• Monitor credit to find and clear blemishes.
2. Set a budget
So you won't get in over your head, calculate how much house you can really afford. Remember that ownership costs go beyond monthly mortgage payments. Property taxes, homeowners insurance, utilities, maintenance/repairs and homeowner association fees should also be factored in.
3. Find your best financing
Mortgage rates vary greatly among lenders, so it pays to shop around. Since credit unions don't operate for profit, they can consistently offer lower mortgage rates on average than banks. Credit unions like Citadel Federal Credit Union offer a wide variety of options, including first time homebuyer grants and financing as well as mortgages that don't require points.
Compare Citadel's mortgage options. Learn More.
Once you've chosen a lender, consider mortgage prequalification. This small step clarifies your price range and identifies you as a serious buyer. Having the necessary financial paperwork handy also smoothes your home buying experience. Most lenders require:
• A few months of bank statements proving you have enough cash for a down payment.
• Tax returns for the past two years.
• Recent pay stubs and proof of other income such as Social Security or investments.
• Earning statements (W-2 or 1099) for the past two years.
4. Start shopping
Now you're ready to shop in earnest. Find a real estate agent and begin exploring. Keep in mind that the neighborhood is more important than the home itself, since you can change your house but not the surrounding area. Investigate shopping, amenities, crime reports and environmental issues to make sure you'll be happy in the community. It's also wise to schedule a dry run of your work commute.
Once you've found the right home, your real estate agent will help you submit an offer. If the seller accepts, you'll sign an agreement and make a small deposit to hold the house. On the other hand, if the seller feels your offer is too low, he or she may counter with a higher price.
When the price is set and the agreement is signed, it's time to hire a real estate lawyer and enter into formal contract. During this time you'll also finalize your financing, have the home inspected and buy homeowners insurance.
Finally you and your lawyer will meet with the seller and his or her lawyer to complete the purchase. You'll sign papers, make your down payment and present financed funds to the seller. At this point, you'll officially become a homeowner.
The path to homeownership may twist and turn, but when you've done your homework, navigation is easy. Before long you can be the proud owner of a home that suits your budget and reflects your unique style.
© Copyright 2016 NerdWallet, Inc. All Rights Reserved