How to Spot Red Flags and Avoid Scams
Category:
Personal Finance 101
Topic:
Managing Finances
Personal Finances
Security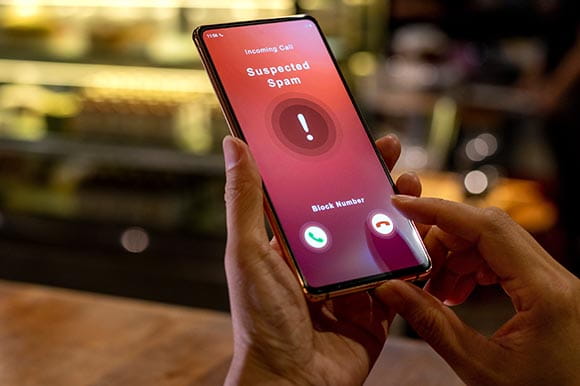 As technology advances and digital banking becomes more prominent, you can be sure that cyber criminals are creating new ways to steal your personal information. In 2021, consumers reported losing more than $5.8 billion to scammers and fraud, an increase of more than 70% over the previous year.
Citadel constantly monitors for fraudulent activity and is committed to protecting members' security, but the best tool scammers have is you. That's why it is essential for you to spot red flags and avoid scams before they can gain access to your information. Here are some of the most common red flags to look for to help identify a scam:
Contacted Unexpectedly With a Request for Personal Information
Scammers will typically try and contact you by phone, email, text, or direct message asking for debit/credit card info, PIN numbers, a payment or money transfer, etc.
How to protect yourself:
The most important thing is to never click a link or download an attachment from someone you don't know. Also always remember that Citadel will never text, email or call you asking for personal or account information.
Pressured To Act Immediately
Another common scam is an alarming phone call, email, or text that is designed to frighten you with an emergency or urgency to act. Scammers may pose as an employee from a familiar organization and say there's a problem that needs your immediate attention.
How to protect yourself:
Do not act or share any information unless you have verified the person who has contacted you and the story or request is legitimate.
Learn more about Citadel's commitment to member security and more tips on how to protect yourself.
Learn More
Asked To Pay in an Unusual Way
Some scammers may act like a financial institution and ask you to make a payment using gift cards, bitcoin/digital currency, prepaid debit cards or on payment apps such as Cash App, Venmo, or Zelle to resolve fraud.
How to protect yourself:
Do not ever make a payment or transfer money to someone you don't know. Also remember that Citadel will never ask you to pay using a method other than your account, transfer money to anyone, including yourself, or will ask you to transfer money because we detected fraudulent activity on your account.
Asked To Provide Personal or Account Information
Scammers typically ask for an account verification code, bank account number or PIN to "resolve an issue with your account."
How to protect yourself:
You should never share this information with anyone, and Citadel will never text, email or call you asking for an account authorization code.
Offered a Free Product
Some advanced scams will target you by offering a free product from a store you recently shopped at or will create a social media post telling you that you can "make easy money." It is very rare that a company will give something away for free, so if the offer seems too good to be true, it probably is.
How to protect yourself:
Never give your card data, PIN, security codes, or passwords to anyone and never cash a check for someone you don't know or allow them to deposit it to your account. Your personal data is ultimately your responsibility, and your financial institution loses leverage to help if that information is willingly provided.
Scammers are working non-stop to acquire your personal information. Learning how to spot red flags and avoiding scams is your best defense against cyber criminals and identify thieves. While Citadel is constantly monitoring for fraudulent activity to prevent scams, if you authorize a transfer or send money to a scammer, there is usually little we can do to help get your money back.
If you suspect you have been a victim of a scam, please contact Member Care services immediately at (800) 666-0191.
Learn even more tips on how to identify and avoid scams.
Explore Now
Citadel's Security Center
To see how Citadel protects members' accounts and provides a variety of security alerts, tips, and resources, check out our Security Center pages. We provide regular updates on the latest phishing attempts and ways to protect your privacy.