How a Real Estate Agent Can Help You Land a Home
Topic:
First Time Home Buyer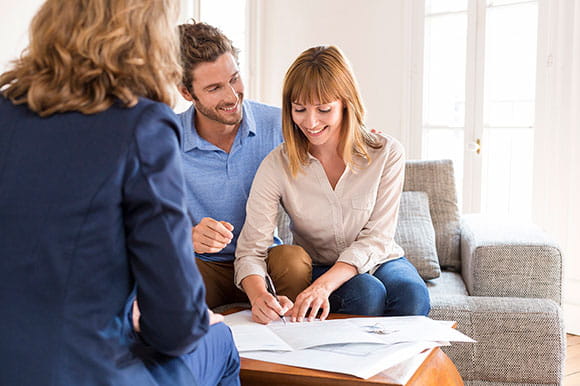 Owning a home can be an excellent source of financial stability and security. Plus, you don't have to deal with those noisy upstairs neighbors anymore.
The actual home-buying process can be somewhat stressful, though, so like with most things, it's usually best to take advantage of all the help you can get. That's where real estate agents come in. These professionals can bring some much-needed clarity to a process that can get fairly complex.
Sellers typically pay the commission
Here's some good news right off the bat: The person selling the home typically covers the costs of real estate agents, who collect a commission of around 6% of the sale price. Usually, the agent who lists the home works with the seller while a buyer comes to the table with one from a different real estate firm, and they divvy up the commission.
Because an agent's paycheck is determined by the final cost of the sale, you'll need to make sure that you aren't being talked into a home that you can't afford. After all, an agent's firm may pocket about $10,000 more if your new home costs, say, $500,000 instead of $350,000. But most professionals recognize that it's in their best interest when both the buyer and seller come away from a closing happy with the deal.
Ultimately, an agent's main goal will be to make a deal happen, so they'll do everything in their power to get those papers signed. If you want to ensure that you're working with someone who wants to finalize a sale and has your back, consider enlisting the services of a buyer's agent. Those costs will come out of your pocket, but the added sense of security might be worth it.
It's usually a good idea to interview different candidates before selecting one to work with as you house hunt. That way, you can get a better sense of their experience and communication skills, two traits that should enable them to help you land the best deal possible.
Why It's a Good Idea to Work With an Agent
As well as being top-notch negotiators, agents who have a deep understanding of the housing market can help you figure out whether a seller's asking price is reasonable. They can also help you make sense of the legal and financial issues that come with homeownership, as well as helping you schedule visits to available houses and highlighting the pros and cons of certain neighborhoods.
Get Recommendations from family, friends, co-workers
Because agents play such an integral role in the home-buying process, consider asking for referrals from family, friends and colleagues. Although nearly everything can be researched online — including where to find a stellar real estate agent — your best bet may be to select a professional who has worked with someone you know. Landing the right home often begins with finding the right real estate agent, so be patient and don't leap at the first one you come across without getting to know him or her.
The Bottom Line
Because the sale commission is typically paid by the seller, there's no need to worry about the cost of working with a real estate agent. Instead, make it a priority to land an agent whom you can trust and who understands your financial situation and housing needs. Getting recommendations from close acquaintances and doing some background checking before picking one will help you achieve that goal.
© Copyright 2016 NerdWallet, Inc. All Rights Reserved