Help Your Teen Spend Smart for the Holidays
Category:
Personal Finance 101
Topic:
Budgeting
Children and Money
Managing Finances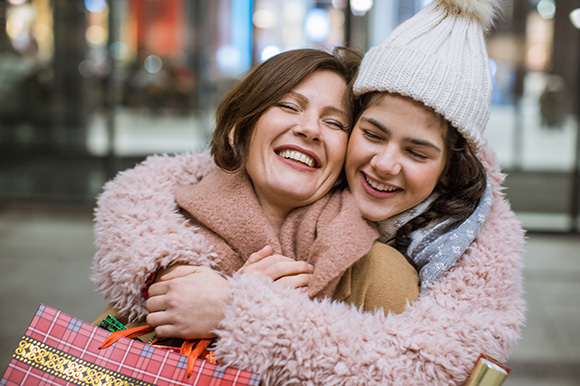 The holidays—and holiday spending—are upon us. Commercials have been airing for weeks, seasonal treats line the grocery aisles and decorations are popping up everywhere. Getting ready to celebrate means a lot of shopping: shopping for food, shopping for décor, shopping for gifts. If the thought of all this shopping and spending for the holidays is making your head spin, chances are it might be feeling a little overwhelming for your teens as well.
As they're on the verge of young adulthood, now is a good time to help your teens practice their budgeting and smart spending skills. Actually using real money is an important step in learning how to manage it properly, and holiday spending offers valuable lessons on budgeting, planning, and dealing with the results of our decisions. You can help them establish good habits that will serve them well for many holiday seasons to come.
One way to give teens a way to learn (and practice!) these skills is to set them up with their own Teen Debit Account at Citadel Credit Union. Starting at age 13, teens are eligible for their own account with joint ownership shared by a parent or guardian. You can easily set up direct deposit for paychecks from a seasonal job, receive holiday gifts from family, or pay group expenses to friends when you connect the card to cash apps like Venmo, PayPal, and Zelle. Teens with debit cards can also shop on their own and practice sticking to a budget.
For more tips on getting your kids on the road to success, check out Kids and Cash: How to Establish Good Financial Habits Early.
Set your teens up for success with a Teen Debit Account.
Open Now
1. Earn Extra Cash for the Holiday Dash
Everyone, including teens, can always use a little extra shopping money around the holidays. Here's a few ways for teens to add a little extra to their account.
Encourage them to clean out their rooms and closets to find items to consign or sell. A box of video games they no longer play, or dresses and outfits from past holiday semi-formals can bring joy to someone else on a tight budget, and some cash to your teen. As a bonus, they have a little extra breathing room in their physical space.
Have them ask to do odd jobs for friends, family, and neighbors: babysit to give parents time to go holiday shopping or offer their services for holiday baking or decorating.
Convince them to trim their everyday spending. Show them where cutting back for a few weeks—like skipping their daily coffee run or buying new video games—can help. They might be surprised how quickly the dollars from even these small cuts add up!
2. Think Through Your Traditions and Plan Ahead
What are your family traditions? Do your teens buy gifts for siblings and other family members, or exchange gifts with their friends? Help them think through their potential holiday spending and set a budget before they start shopping.
Ask them to begin with a list of people they know they want to purchase a gift for, and approximately how much they want to spend. Once they add up the numbers, they can determine if they have that much available and adjust accordingly.
Alternatively, they can start with the money they have to spend and divide it by the number of people on their list. For instance, if they have $100 for holiday shopping and five people on their list, they can budget $20 per gift.
Tip: If your teen has purchased gifts for previous holidays, looking at what they spent and when can help them create a budget for this year and avoid any last-minute shopping. If your teens prefer to use a device, Citadel's Money Manager App makes keeping track of all their spending fast and easy.
Teaching teens to approach their holiday shopping with set gift amounts makes it easier for them to stay on-budget and really focus on who they want to buy for. Kindness and generosity are qualities we want to foster in our teens, but it's equally important for them to be realistic and make responsible decisions.
3. Shop Wisely and Safely
Have your teens check their favorite online sites to see when there will be scheduled sales. Shops will send emails or text messages if they've signed up with them, often with coupons and offers for the holidays. Remind them, however, that they're shopping for others, not themselves!
Tip: If they do run across a few "must haves", they can make a list and send it your way. Not only will it make your shopping easier, but you can pass on those suggestions to family members who may be stumped as to what to get your teen.
It's also important to remind your teens that if it seems too good to be true, it just might be. Make sure when they shop online, they use well-known, reputable sites that offer purchase protection. If they're shopping at local stores, they need to protect their debit card and PIN from theft. Wherever they shop, make sure they keep their receipts in a safe place and that they're aware of return policies and restrictions.
Protect yourself and your teens throughout the holiday shopping season and all year long by reviewing the Citadel Security Center's in-depth information on Cybersecurity and Scam Protection.
4. Consider Other Ways to Celebrate
If your teen's list keeps getting longer by the minute and their budget is stretched thin, you might suggest ways of helping them reign it in. Limiting their holiday spending to gifts for immediate family is one way, and they can offer suggestions on other gifts you may give as a family. Even limiting purchases siblings or young relatives to whom they are close still allows them to experience the joy of giving without putting a strain on their bank account.
When it comes to shopping for friends, your teen and their friends might be open to a gift exchange where they only have to focus on one person. With a Secret Santa or Pollyanna, a popular southeastern Pennsylvania spin on such exchanges, group members determine their budget, usually around $20, and purchase one gift. The silly rules and hilarious games played while swapping gifts leads to laughter and memories that make the holidays even merrier.
Alternatively, your teen and their friends may decide to pool their money for a fun group activity such as ice skating or skiing instead of exchanging gifts. Spending an afternoon baking holiday snacks or crafting thoughtful gifts can be another inexpensive yet meaningful way for them to celebrate the holidays together.
5. Use Their Time and Talent to Create Meaningful Gifts
Sometimes, the best gifts can't be purchased in a store or online. Encourage your teen to think about their talents and how they may use them. Perhaps they are skilled artistically and can create something unique for a loved one. Teens who know their way around a kitchen can craft homemade holiday treats or offer a special meal. Are there tasks they can take on, such a helping to sort through and frame old photos or revamp an overgrown garden into something beautiful? Maybe their younger siblings would enjoy a trip to a museum or other experience, rather than another toy.
The monetary cost to your teen is small, but the happiness their gift can bring is immeasurable. Especially for parents and older relatives, who may not really need material items, these gifts of time and service can be most welcome and far more meaningful.
6. Focus on What the Holidays Mean
Many cultures include a component of creating and sharing as part of their holiday celebrations. Encourage teens to consider homemade, personalized gifts, or inviting their friends to join your celebrations and explaining the ritual and activities to their guests.
Centering gatherings and celebrations on community and togetherness rather than material gifts can go a long way toward a more joyful holiday. Bringing happiness to others and enjoying time spent together doesn't have to be expensive or blow up your—or your teen's—budget. Perhaps the most important lesson about holiday spending for your teen to learn is that it's not always the things you can wrap up in shiny paper that make the best gifts.
Get your own budget ready for holiday spending!
Start Today