3 Pennsylvania Grants for College You Should Know About
Category:
Saving & Preparing for College
Personal Finance 101
Topic:
Children and Money
Personal Finances
Managing Finances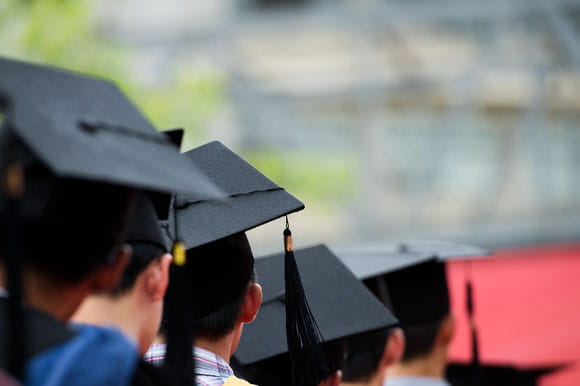 As parents, we always want what's best for our children. And sometimes that means making sure they do the things that are right for them. Are your teeth brushed? Is your room clean? Did you finish your homework? We nag our children with these questions on a daily basis. And while we do, we have our own set of nagging questions playing on repeat in the back of our minds: What can I do to prepare for my child's future? What are the investments I can make for my children? How can I afford to send them to college?
As your children get closer and closer to graduating high school, it's only natural that you're thinking about these things—especially if you want to support your child as they take their next steps into their future. But saving for college or any other post-secondary institution isn't easy. As your children were growing up, America saw a catastrophic recession in 2008–2009, and a massive rate of unemployment in 2010. Pennsylvania itself experienced an unemployment rate of 8.8% that year, which—while lower than the national average at the time—is the highest rate the state has seen in the last 30 years. These events and current concerns around an impending recession have impacted how much people have been able to put towards college funds and other savings.
If your child is in their last year of high school, graduation is less than a year away—and that may not be enough time to pull together the funds you need for their first year at college. But don't worry, there are grants and scholarships your teenager can apply for to help ease the costs.
Grants for College 101
As you may know, grants are a form of financial aid that are awarded based on need, instead of grades or skills. Grants exist primarily to relieve financial stress and, unlike student loans, they don't need to be paid back. They can be attained through the educational institution your child plans to attend or from external parties like non-profit organizations or the state and federal governments.
If you're choosing to make grants part of your financial strategy for your child's post-secondary career, it's important that you both put in the time to research the grants that they could be eligible for and determine which ones are most aligned with your financial situation. There are other considerations too. For example, state grants will likely have a bigger budget and will be able to accommodate more students. Meanwhile, niche, smaller non-profits will have fewer applicants and offer a higher chance of your child's application being noticed and seriously considered.
Here at Citadel, we can help you prepare for life's big moments.
Start Today
What College Grants in Pennsylvania Have to Offer
To start you off with your research, we've collected insights on some of the state's existing grants and their requirements.
The Pennsylvania State Grant
This state-funded grant provides financial aid primarily to people who are attending post-secondary institutions in the state. The amount given to each student is dependent on their situation and the institution they choose to attend.
In order to be eligible for the grant your child must be a high school graduate, enrolled in a program that lasts at least two years, and take between 6 to 12 credits per semester. The application deadlines for first-time students attending a university or college is May 1, and August 1 for those enrolled at a community college or trade school.
The PATH Program
If your child receives a grant for college from the state, they may be eligible for additional support through the PATH program, which provides each student with up to $2,500 per year. An applicant is eligible if they receive a state grant or if they are nominated by a PATH partner (e.g. Kids Chance of PA or Philadelphia Futures) that is already providing them with a scholarship. Like with many needs-based programs, applicants need to be able to prove that they actually need this additional aid.
Going Directly to the Institutions
As the pillars of the state's post-secondary education offerings, the University of Pennsylvania (UPenn) and Penn State both offer financial aid to their students based on need. At UPenn, the applications are dealt with internally, and once a candidate is selected, they contribute 100% of their financial needs after the expected family contribution.
Penn State's grants are managed through the FAFSA (Free Application for Federal Student Aid), which is a federal program that helps educational institutions determine an applicant's financial requirements. If your child has been accepted to more than one school, make sure you research what their financial aid programs look like, and how likely it might be for your family to receive support.
There are a number of options available to families and students looking for support as they embark on the next chapter of their journey. Once you've determined a list of options that appeal to you, set up a schedule with all the application due dates and what is needed for each one. This will help make sure that you don't lose out on funding because you've missed a deadline or forgotten to include a key piece of information.
It's never too early to save for your child's education—and we're happy to help. Consider our High Yield Savings account to keep your education fund safe and prosperous.
Get more tips to help you prepare for college tuition.
Learn More