Plan for Your Financial Future
It's never too early (or too late) to set financial goals, but achieving them requires a clear picture of your personal finances and an understanding of the services and strategies available to support your financial goals. At Citadel, we understand how important it is to manage your personal finances, set short term goals as well as long term financial goals. The Financial Planning services at Citadel, available through CUSO Financial Services, L.P. ("CFS") can help.
Schedule a complimentary consultation and let one of our advisors help you achieve your financial goals today!
What It Is
Our Financial Advisors (registered through CFS*) will share their extensive experience and up-to-date knowledge to help you make financially sound decisions now, and at every stage of life. We'll work closely with you to create a detailed financial plan tailored to your personal finances to meet your specific goals, including saving for college or retirement, reducing your tax burden, protecting your income, and building wealth through investment and saving strategies.
What You'll Get
Analysis
Your Financial Advisor will assess your personal financial situation—including income, expenses, assets, liabilities, and current insurance coverage—and provide you with an initial risk assessment.
Implementation
After this thorough analysis, your Financial Advisor will help you implement a financial plan that includes products, services, and tax-efficiency strategies that align with your goals.

Monitoring
Shifts in your finances, changes in the markets, or new tax laws may affect your strategy over time. Your Financial Advisor will monitor your plan and work with you to make adjustments and set new goals as needed.

Disclosures
*Non-deposit investment products and services are offered through CUSO Financial Services, L.P. ("CFS"), a registered broker-dealer (Member FINRA/SIPC) and SEC Registered Investment Advisor. Products offered through CFS: are not NCUA/NCUSIF or otherwise federally insured, are not guarantees or obligations of Citadel, and may involve investment risk including possible loss of principal. Investment Representatives are registered through CFS. Citadel has contracted with CFS to make non-deposit investment products and services available to Citadel members. CUSO Financial Services, L.P. (CFS) does not provide tax or legal advise. For such guidance, please consult your tax and/or legal advisor.
Best For...
Creating Tax-Saving Strategies
Protecting Income and Assets
Are my current retirement savings sufficient?
Are my current retirement savings sufficient?
One method of retirement planning is to project what you are currently saving and have accumulated to date and see if you will have enough to meet your retirement objectives. Use this calculator to determine when/if the money will run out during retirement and it will recommend additional savings if required.
Start Calculator
Retirement Savings and Assumptions
Remove
Your current age (1 to 120)
Annual pension benefit at retirement($)
Spouse's annual income (if applicable)($)
Current annual savings amount($)
Current retirement savings amount($)
Current annual savings increases (0 to 10%)
Expected inflation (0 to 10%)
Desired retirement age (1 to 120)
Number of years of retirement income (1 to 40)
Income replacement at retirement (0% to 300%)
Pre-retirement investment return (-12% to 12%)
Post-retirement investment return (-12% to 12%)
Social Security override amount($)
Include Social Security benefits?
Pension increases with inflation?
Calculate
Close Results
Results
Meet with a CFS* Financial Advisor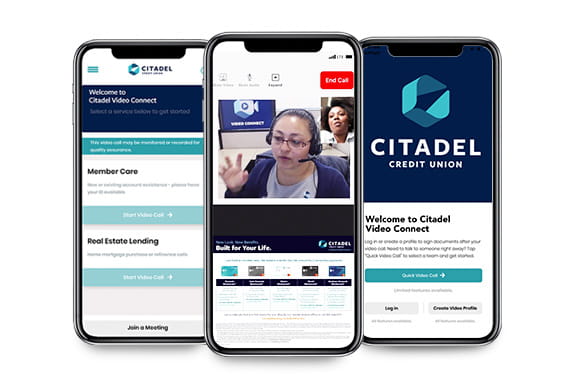 Chat Face-to-Face With Citadel Video Connect
Citadel's Video Specialists are just a few clicks away with Video Connect. Skip the trip to the branch office and video chat safely and securely from your preferred location. Learn More.
On your laptop, desktop, or mobile device, our Video Specialists can help you complete almost any banking-related task:
✔ Open a new account
✔ Add a product to a current account
✔ Apply for a loan
✔ Talk to a business banking expert

Find an ATM or Branch Near You