Limited Time! Get $20* Back When You Spend $200
Spend During the Holidays & Get Rewarded
Buy Everything You Need, Earn More
December is the time for holidays and gift shopping—and you can also earn when you use your Citadel Mastercard! When you shop throughout December at any store, in-person or online, you can earn up to $20* cash back on your qualifying purchases.
How It Works
Use your Citadel Mastercard to shop at your favorite stores in-person or online, from December 1 to December 31, 2022.
Make purchases totaling $200 or more.
It's that simple! You'll receive a $20 credit on your primary Citadel savings account.
This is a limited time offer, so mark your calendar and start shopping!
*Account and offer requirements apply. Read Full Disclosures.
Add your Citadel Mastercard to your mobile wallet to make quick and secure payments using your mobile device.
Learn More
Every Citadel Mastercard gets:
25-day grace period on purchases

MasterCard Global Service for lost or stolen cards
Extended warranty on select purchases

Price protection
Still have questions? Contact us today!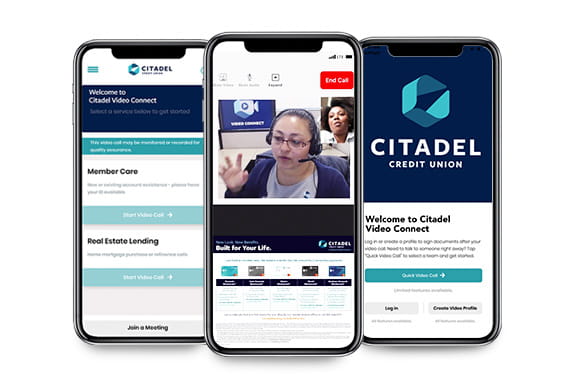 Chat Face-to-Face With Citadel Video Connect
Citadel's Video Specialists are just a few clicks away with Video Connect. Skip the trip to the branch office and video chat safely and securely from your preferred location. Learn More.
On your laptop, desktop, or mobile device, our Video Specialists can help you complete almost any banking-related task:
✔ Open a new account
✔ Add a product to a current account
✔ Apply for a loan
✔ Talk to a business banking expert

Find an ATM or Branch Near You
*Agreements and Disclosures
View *Agreements and Disclosures
*Information accurate as of and may be modified or withdrawn at any time. You can earn $20 cash on net purchases totaling at least $200 to your Citadel credit card from 12/1/2022 through 12/31/2022 ("promotional period"). Total purchases are calculated by summing purchases minus any credits or returns ("net purchases"). We will credit your primary Citadel savings account with $20 for total net purchases equaling $200 or more during the promotional period. Maximum credit is limited to $20 per account. Award will be posted to your primary Citadel savings account within 90 days from end of promotional period. Account must be active and in good standing at the time of posting. Offer valid to existing Citadel credit card customers only and not available for business accounts.