Enjoy Safe & Easy Online Shopping
You're Protected With Citadel Mastercard®
Shop safely and securely when you use your Citadel Mastercard® to make purchases online, large or small. Your card is accepted at merchants around the world, and protects you in two important ways:
Zero Liability for any unauthorized purchases*
Mastercard® ID Theft ProtectionTM assistance and alert**
Use Click to Pay for Added Online Security
When you see the Mastercard Click to Pay icon

at participating online merchants, add your card for an easy, safe checkout experience without the need to use your merchant passwords. Learn more at mastercard.com/clicktopay for more information and your chance to win $500!***
Use Your Card to Shop Online
Your card is accepted at online merchants worldwide. Use your card each time you shop online – and enjoy the safe way to pay.
Add your Citadel Mastercard to your digital wallet to make quick and secure payments using your mobile device.
Learn More
Every Citadel Mastercard gets:
25-day grace period on purchases

MasterCard Global Service for lost or stolen cards
Extended warranty on select purchases

Price protection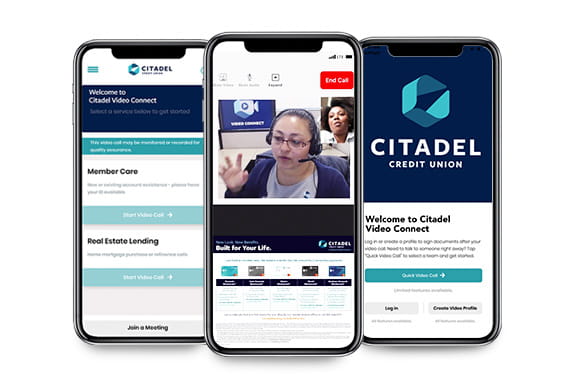 Introducing Citadel Video Connect
We've introduced a new way to bank, making it easier than ever to chat face-to-face with a local Citadel team member. The best part? You can connect with us safely and securely from anywhere — with just a few clicks on your laptop, desktop computer, or your mobile device. Learn more.

Find an ATM or Branch Near You
*Agreements and Disclosures