Next Steps for Your Maturing Certificate
Now that your Citadel Certificate is about to mature, you have some options for continuing to grow your savings. If you're considering another Certificate, check out our current rates and terms to find the right fit. Or, for more flexible access to your funds, consider moving your money into a High Yield Savings Account.
High Yield Savings Features & Benefits
A competitive, variable rate. See current APY.
One free withdrawal per calendar quarter – there's a $25 fee for additional withdrawals or transfers during the same quarter.*
Deposits are federally insured by the NCUA up to $250,000 per member.
Easily add funds to your account using mobile deposit, electronic transfer, or at any local branch.
Maintain a balance of $10,000 or more to earn interest**
Ways to Open a High Yield Savings Account
Offers are subject to credit approval. APY = Annual Percentage Yield. Read Full Disclosures.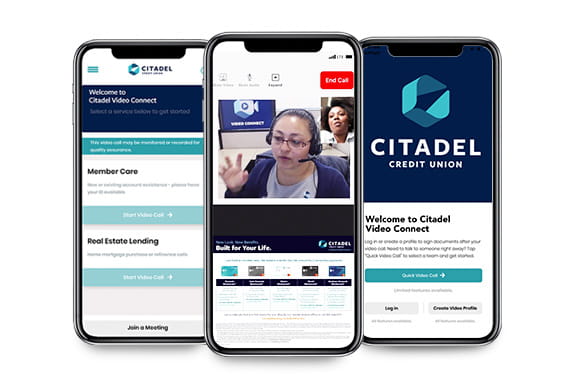 Chat Face-to-Face With Citadel Video Connect
Citadel's Video Specialists are just a few clicks away with Video Connect. Skip the trip to the branch office and video chat safely and securely from your preferred location. Learn More.
On your laptop, desktop, or mobile device, our Video Specialists can help you complete almost any banking-related task:
✔ Open a new account
✔ Add a product to a current account
✔ Apply for a loan
✔ Talk to a business banking expert

Find an ATM or Branch Near You
*Agreements and Disclosures
View *Agreements and Disclosures
Information accurate as of and is subject to change without notice. All rates expressed as Annual Percentage Yield (APY).
1Certificate Offer: Minimum deposit to open and earn standard APY is $500. Bonus APY is available on certificates opened with a minimum deposit of $75,000 or more. You may not make any deposits to this account after it is established. Your account will automatically renew at maturity. You will have a grace period of 10 calendar days following maturity to make withdrawals from or deposits to your account. Citadel will impose a penalty if you withdraw any of the funds before the maturity date. The penalty imposed will equal 90 days of dividends on your account for account terms of one year or less; 180 days of dividends for account terms greater than one year and less than three years; and 365 days of dividends for account terms of three years or greater. We calculate all early withdrawal penalties on the principal amount withdrawn at the dividend rate in effect on the account on the withdrawal date. If your account has not earned enough dividends to cover an early withdrawal penalty, we deduct any dividends first and take the remainder of the penalty from your principal. Offer not available for public funds. Membership requirements apply.
2 Transaction Limitations: During any calendar month, you may not make more than six withdrawals from or transfers to another Credit Union Account of Yours or to a third party by means of a pre-authorized or automatic transfer or telephonic order or instruction, or by check, draft, debit card, if applicable, or similar order to a third party. One (1) free withdrawal or transfer per calendar quarter; $25 for each additional withdrawal or transfer during the same quarter.
3 Balance Requirements: Minimum Balance Requirements. You must maintain a daily balance of at least $10,000.00 in Your Account each day to obtain the disclosed annual percentage yield. You will earn dividends for every day during the period that Your Account balance equals or exceeds the minimum daily balance requirements. Variable rate accurate as of and subject to change. Not available as an IRA investment option or for public funds. Fees may reduce earnings on the account.