Online and Mobile Banking Updates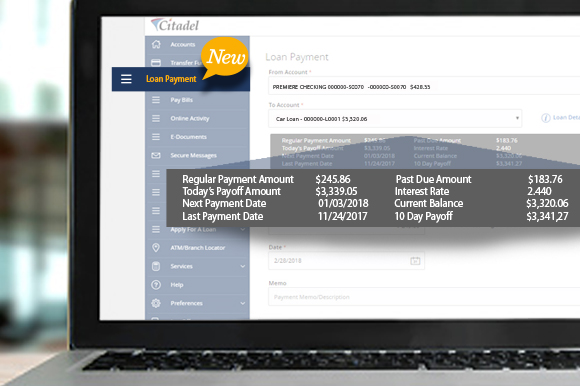 March 2018 Updates
Streamlined Loan Payments
In the next few weeks, we will be rolling out a streamlined Loan Payment section in Online and Mobile Banking. The new section will be available from the main menu, after Funds Transfer - 'Loan Payment'.
Selecting 'Loan Payment' will take you to a new screen that is optimized for paying your loans quicker and easier from your existing Citadel Accounts and any External Accounts you have added. Highlighted features are:
Transfer to any Citadel loan or credit card, with payment amounts pre-filled after selecting payment option.
Choose from several payment options; statement balance, minimum balance, and more!
View your loan details such as; Interest rate, due dates, and payoff amounts.
We are very excited to launch this new enhancement!
Most Recent Updates
Citadel Account Alerts - Now Available
Citadel Account Alerts are the perfect tool to help you manage your account, giving you peace of mind when you're on-the-go. Receive personalized alerts for your account activity via email or directly to your mobile phone. Account Alerts monitor your account every 10 minutes for new activity, ensuring you have real-time account information right at your fingertips. Learn More!
Account Overview Screen Updates
We have made updates to the Account Overview screen to display the highest priority account information as soon as you log in. For example, loans will now show your Due Date and Current Balance, saving you a step to get the important details you need to manage your accounts more efficiently. In addition, you will see more streamlined account titles (for example, "60M Certificate" instead of "60 Month Certificate").
The details of the changes are as follows:
Savings, Checking, Money Market & IRA accounts will now display Available Balance and Current balance.
Loan Accounts will now display Due Date and Current balance.
Certificate Accounts will now display Maturity Date and Current Balance.
Quick Tip: Did you know you can set nicknames for all of your accounts? Nicknames display on your Account Overview screen and help you identify accounts more quickly and easily!
Follow these quick steps to set up nicknames:
Select 'Preferences' from the menu
Select 'Account Preferences'
Choose an account to work with and select 'Nickname Account' to edit your account nickname.
Enter a new name and click the check mark when you are finished!
Check out the image below to see the changes in action. You can also watch our featured video below on Account Preferences to learn how to add a nickname step by step.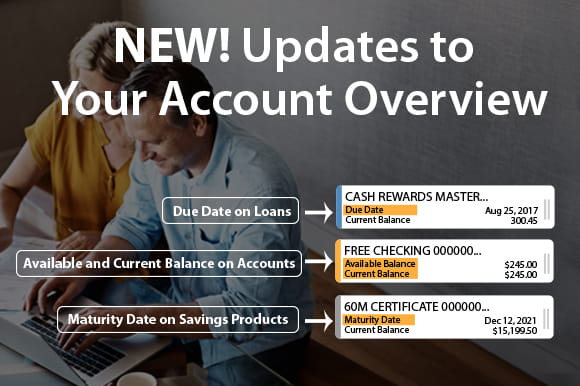 Online and Mobile Banking Account Preferences
Frequently Asked Questions