Take The Hassle Out of Paying Your Bills
When it comes to your bills, having peace of mind is key. Citadel Bill Payer is a free tool that has you covered so you never worry about missing another payment. With Bill Payer, you can easily pay and stay on top of your bills all in one place from the Citadel Mobile App or Online Banking. You can add people and companies such as your neighbor, lawn care service or babysitter along with all major billers. You can quickly sign up by choosing 'Bill Payer' from the 'Payments' menu in Online or Mobile Banking.
AutoPay
Every month your bill is paid automatically – guaranteed – so you can get back to life.
Manage Bills in One Place
View all of your payments in one place in the Payment Center.
eBills
Receive your bills electronically every month so you can easily review and schedule payments.
Additional Features
Bill Payer Benefits
Recurring Payments: With AutoPay, avoid the hassle of missing payments or setting up one-time only payments. Every month your bill is paid automatically – guaranteed.
Pay in One Place: Enjoy centralized payments with the Payment Center. Pay anyone or any company in the United States, and don't even worry about remembering the contact information – we'll store it and automatically update for you if anything changes.
Keep it Simple With eBills: Get an automatic email as soon as your eBill (electronic bill) arrives, so you can log in and schedule your payment as quickly as possible.
Get Payment Reminders: You'll get automatic reminder emails for payments that are due when you sign up for eBills or set up account alerts. You can also receive alerts to track your payment status.
Get peace of mind with your payments through Bill Payer.
Enroll Now
How to Sign Up
You will need to enroll in Online & Mobile Banking to use Bill Payer.
Once enrolled, you can quickly sign up by choosing 'Bill Payer' from the 'Payments' menu.
Once you have signed up for Bill Payer, you'll see your customized Payment Center, where you can manage all of your bills in one place.
That's it! You can start adding your payees and schedule payments immediately.
Managing Bills in the Mobile App and Online Banking
You will notice when you access Bill Payer on your mobile device or the Citadel Mobile app, the experience is more streamlined. We've created a mobile optimized experience for bill payment on smaller screens. However, you can access the full site by choosing 'Visit Bill Pay Site' from the 'Options' button. Check out the image below to see the details.

Best For...
Managing all your bills and payments in one place.
Members looking to manage payments easily online or through their mobile device.
Setting up automatic payments for peace of mind.
Securely pay anyone, anywhere, anytime.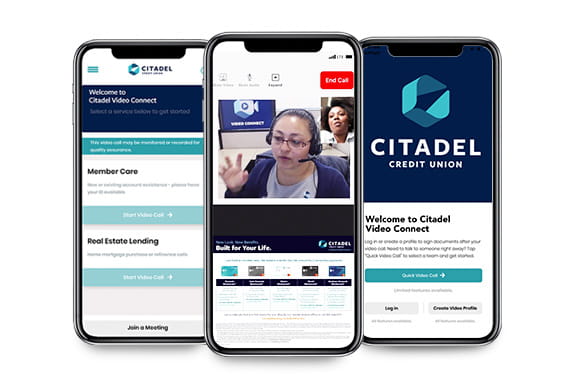 Chat Face-to-Face With Citadel Video Connect
Citadel's Video Specialists are just a few clicks away with Video Connect. Skip the trip to the branch office and video chat safely and securely from your preferred location. Learn More.
On your laptop, desktop, or mobile device, our Video Specialists can help you complete almost any banking-related task:
✔ Open a new account
✔ Add a product to a current account
✔ Apply for a loan
✔ Talk to a business banking expert

Find an ATM or Branch Near You
Bill Payer Frequently Asked Questions