Your transactions. Your peace of mind.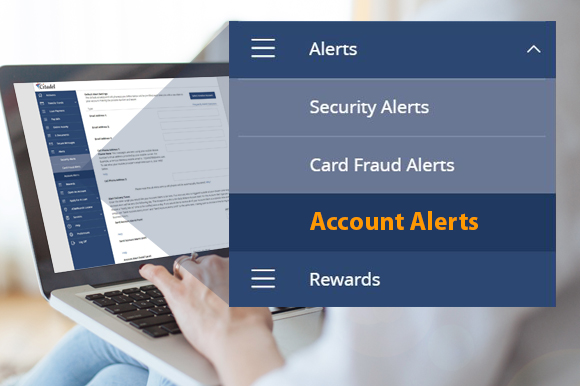 Citadel Account Alerts
Citadel Account Alerts are the perfect tool to help you manage your account, giving you peace of mind when you're on-the-go. Receive personalized alerts for your account activity via email or directly to your mobile phone. Account Alerts monitor your account every 10 minutes for new activity, ensuring you have real-time account information right at your fingertips.

Why Account Alerts?
FREE - Account Alerts are completely free!
Flexibile - Each Account Alert can be sent to multiple email addresses or cellular phone numbers within minutes of the actual transaction. You can also set up different alerts for each account you manage in Online and Mobile Banking.
Easy - When you first enroll you will be prompted to set up Default Alert Settings, including to which email or phone number you'd like to receive alerts. These Default Alert Settings are pre-populated for each alert to save you time.
Secure - You control how much information is sent to you. Simply select the level of detail you would like when you set up your alert. You can choose from 'Generic - No Detail' to 'Specific - Full Detail'. With the Generic level, you can log in to see your full transaction details.
Quick Tips:
Default Alert Settings: The first time you select 'Add New Alert' you will be taken to your Default Alert Settings. Once you have reviewed and confirmed your Default Settings, you will be taken back to select your account alerts.
Text Message Alerts: Text alerts are delivered to your phone via a provider mobile email. The email address is made up of the cellular phone's [10-digit phone number]@[service provider's gateway]. For Example, a Verizon Wireless mobile email is: 123456789@vtext.com. You can view a list of examples from the most popular providers here. Please check with your service provider if it is not listed.
Alert Detail Examples: If you would like your Account Alert to contain the Transaction Time/Date, Amount, and New Balance, choose "Specific - Full Detail." You can also have limited information sent by choosing "Moderate - Some Detail" and "Generic - No Detail." Due to message length, you may receive an abbreviated version of a "Moderate" or "Specific" detail level Account Alert when it is being sent to a cellular phone.
Security Alerts
Citadel offers several security alerts to ensure you are always aware of important login and account access information. Choose from several alerts spanning from External Account additions to new browser and device registrations. For your protection, the following alerts are always active:
Password Changes
Secure Access Contact information changes
Username Changes
Card Fraud Alerts
Help manage your account activity and quickly identify potentially fraudulent transactions. When you provide us with your mobile number, we will automatically sign you up to receive automated alerts to your mobile device using Text Messaging and/or Pre-Recorded Digital Voice Phone Calls.
How it works:
A text message and/or pre-recorded voice call may be sent to your mobile device when there is a suspicious transaction(s) identified on your credit or debit card. Simply reply to the text to confirm whether or not you recognize the transaction(s).
If you reply to the text that you do not recognize the transaction(s), you will receive a text response back asking you to call Fraud Detection and a block will be placed on your credit or debit card to protect from further fraudulent transactions until you call Citadel.
If you reply to the text that you recognize the transaction(s), your card will remain available for use.
Enroll today to review more details.
Enroll in Account Alerts to help monitor your account against fraud and keep you on top of your spending!
To get started, simply sign up for new alerts by following these steps:
Log In to Online or Mobile Banking
Select 'Alerts' from the main menu
Choose the type of alerts you would like to enroll in
Follow the prompts and start receiving alerts!