Citadel Launches New, Redesigned Website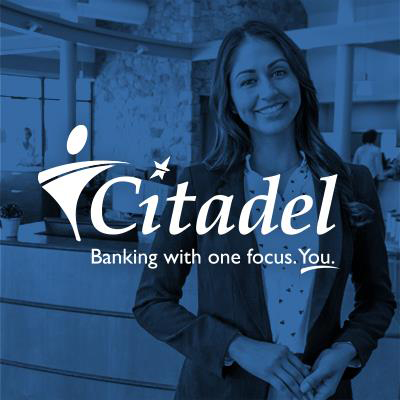 State-of-the-Art Website Features New Content, Responsive Design, and Interactive Tools
EXTON, PA — Citadel, one of the largest credit unions in Pennsylvania, announced today it has launched a brand new, redesigned website. The new site is part of the company's tech-forward focus and commitment to provide Citadel customers the optimal digital experience.

The new CitadelBanking.com features a fully responsive design that gives users a seamless experience across all devices, including mobile, tablet, and desktop. The site incorporates Citadel's original brand elements with a fresh look. In addition, users enjoy interactive tools that let them easily compare Citadel's product rates and features, calculate future savings, or locate nearby branches on-the-go.

Citadel partnered with TBG (The Berndt Group) of Baltimore to design the new website. Citadel and TBG focused on making the user experience simple, convenient, and interactive. Another focal point was adding informative, relevant financial literacy content based on life milestones such as a first job, getting married, starting a family, and retirement.

Citadel's new site will enhance the user experience through personalization capabilities, including helper tools to find information more quickly. The site will also utilize and promote user-generated content such as comments, ratings, and testimonials.

Some of the new CitadelBanking.com features include:

• Product Compare Tools: Interactive compare tools allow users to explore the different features of Citadel's products such as various mortgage types, credit cards, and personal loans.

• Branch Locator: Customers can easily locate the nearest Citadel branch or ATM from any device and can set a favorite default branch.

• Learn & Plan Content: Citadel's new "Learn & Plan" blog features financial literacy content based on life milestones.

• Improved Navigation: The new navigation is simplified and designed to help users get what they need faster. Users also enjoy improved search functionality across the site.

"Citadel's number one focus is giving our customers the best banking experience possible, whether it be through a digital device or in any of our 22 branches," said Jeff March, President and CEO, Citadel. "Building our new website is one of the many ways Citadel promises to continue providing convenient and valuable digital banking tools."

Citadel, recently named number one in the nation for providing value to customers, has been a local financial institution in the Greater Philadelphia area for 80 years, and now has more than $2.8 billion in assets. Citadel provides personal, home and auto loans, certificates, credit and debit cards, reward checking accounts, and online banking services.

Baltimore-based TBG (The Berndt Group) is an award-winning, national digital agency and Sitecore Gold partner focused on meaningful digital transformations that combine leading user experience, implementation of platforms and automation, improved digital operations, and the adoption of best practices around personalization and user engagement.

To explore Citadel's new website, visit CitadelBanking.com.
CONTACT:
Abigail Brooks
(610) 466-6896
AbigailBrooks@CitadelBanking.com
###
About Citadel Credit Union
Citadel Credit Union is a not-for-profit, member-owned financial institution that provides banking, investments, and insurance services to more than 255,000 members. At $5.7 billion in assets, it is one of the Greater Philadelphia area's largest credit unions, proudly serving residents of Bucks, Chester, Delaware, Lancaster, Montgomery, and Philadelphia counties. Citadel is recognized as a 2023 Fortune Recommends Best Credit Union, Forbes 2022 Best-in-State Credit Union, and a certified 2022 Great Place to Work. For more information, visit CitadelBanking.com.