Why and​ ​How​ ​to​ ​Refinance​ ​Your​ ​Mortgage​ ​in​ ​Pennsylvania
Topic:
Borrowing Money
Paying Down Debt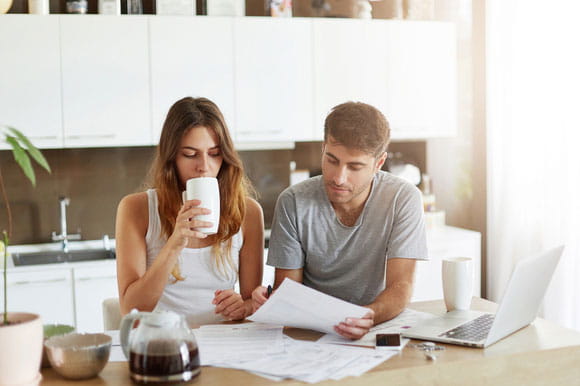 Deciding to refinance your mortgage is no small undertaking. It's a huge decision—one that requires a sound understanding of the ins-and-outs of your existing mortgage. However, life happens, and sometimes refinancing can be necessary—even ideal. The key is to approach the issue armed with as much information as possible, and to have a firm understanding of your options and of the financial implications of refinancing.
Options for Refinancing
As if sorting out your initial mortgage wasn't enough of a process, refinancing a mortgage involves replacing that existing one with a brand new one, typically at a lower rate. Most people refinance because it makes financial sense to do so and there are a range of options based on your existing mortgage and your personal financial circumstance.
At Citadel, we offer multiple options for homeowners interested in refinancing.
This option includes low closing costs and low fixed rates long-term, giving you stability with your payments. They're structured with flexible terms, which allows homeowners to choose a term based on their financial circumstances.
When opting in for this option, you can pay a lower initial payment, depending on what kind of money you have available to put up front. These mortgages offer flexibility and an adjustable rate if you don't plan to keep your home more than ten years.
If your existing mortgage rate is above 3.74%, then you may qualify for this option. Easy Refi can lower your mortgage rates and shorten the terms, while also offering low closing costs.
Why to Refinance Your Mortgage
Before you decide how to refinance your mortgage, it's important to identify why you're doing so. The choice to refinance will be personal—your family needs to save more money than you're capable of with your current rate, or you need to gain access to more cash than you have in savings.
For example, families may suddenly need access to extra money for tuition fees after they realize their child doesn't qualify for financial aid. In this case, refinancing your mortgage could be cheaper than obtaining a personal loan. Other families may need access to funds for major house repairs or because they want to remodel but lack the savings to do so.
Another reason to refinance your mortgage is to lower the interest rate on your existing one. Reducing your rate by just 1% could end up saving you thousands of dollars over the lifetime of the loan. It can also help you lower your monthly payments and build equity in your house much faster. Depending on the terms of the loan, you could shorten the term of your mortgage just by refinancing it.
How to Refinance Your Mortgage in Pennsylvania
Once you've decided to refinance your mortgage you'll need to make sure your financials are in order. Loan companies will want to look at your credit score, tax returns and pay stubs in order to understand your financial history and determine how much of a risk it is to lend to you. To prepare for this kind of financial audit, you'll need to get a copy of your credit report to check for any discrepancies and consolidate all of the relevant tax and income related documents.
Next, you'll need to decide if you want to shorten the term on your mortgage. By shortening a term you can reduce the amount of time you're paying monthly bills and pay off your home sooner. After you've decided on the length of your new mortgage, you'll want to figure out if you want to pay "points", which is an upfront fee designed to lower the rate of your refinance. Once you've got all of the above sorted, you can start shopping around for a rate that suits your circumstances.
When consulting with brokers, you want to compare the fees, interest rates, and points as well as any additional fees, such as Pennsylvania state or local taxes. Citadel brokers are able to clearly highlight the relevant costs for you. Once you're ready to apply, the loan company will help you with begin the process, including a house appraisal and completing any paperwork necessary.
What to Consider Before You Refinance
Before doing any research on companies and rates, be sure to investigate your financial situation and make note of any major upcoming expenses or life events. Once you're ready to look at refinancing companies, make sure you understand the financials of what you're getting into. Again, the decision to refinance isn't one to take lightly, but with the right help and expert advice, the process might not be as difficult to navigate as you once believed.
Home loan experts at Citadel can help you understand the refinancing process and identify any possible risks.
Refinance your Mortgage with Citadel Today!
Learn More