Talking to Teens About Healthy Spending Habits
Category:
Saving & Preparing for College
Personal Finance 101
Topic:
Children and Money
Budgeting
Saving Money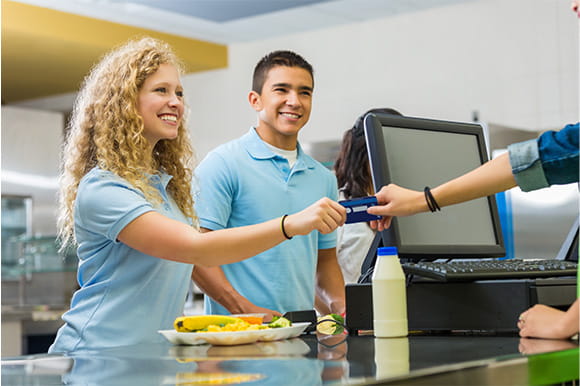 Americans spend a lot of time and money ordering, preparing, and enjoying food on a daily basis, and those everyday habits start early.
In 2020, the Consumer Expenditure Survey published by the U.S. Bureau of Labor Statistics (BLS) indicated that Americans spent an average of nearly 12% of their household budget on food.
Right here in Pennsylvania, people spend an average of $2,431 per year on dining out several times per week, with an average menu price of $10.55.
These expenses can add up fast, especially for young spenders who haven't practiced the art of budgeting yet. When it comes to talking to your kids and teens about healthy spending and saving, it can be helpful to put yourself in their shoes and think about the choices they're forced to make in their own daily lives.
Teen Budgeting For Every Stage of Growth
Options in the cafeteria, dining hall, and online have grown substantially over the years, and it's not always clear which choices make the most financial (or nutritional) sense.
The safest way to help prepare your child is to start practicing early. Talk to them when you're making your own budgeting choices about when to dine out, when to order delivery, and when to prepare meals at home. Then, take it a step further and talk through the types of purchasing decisions they're making with their friends during and after school.
Middle School Spending: The school cafeteria is often one of the first places kids are forced to make some purchasing decisions on their own. The options are different from one school to the next, but consider talking to them about the cost of everyday items in the cafeteria versus bringing their own lunch from home. Maybe you agree to purchase school lunch twice a week or bring extra snacks from home to supplement their afternoon cravings while avoiding add-on purchases. Additionally, some students today are even ordering from meal delivery apps to be delivered to the cafeteria at lunchtime, so the added cost of convenience is worth highlighting as well.
High School Spending: Throughout high school, spending and earning money may increase if your teen is earning a paycheck from a part-time job or going out more regularly with friends. In talking to older teens about budgeting, you can reiterate conscious choices during and after school by looking together at the cost of some of their favorite items and any added fees for online ordering, delivery, transfers between friends on cash apps, or frequent ATM withdrawals.
Remind them there's also a cost associated with hanging out at certain places like coffee shops, cafés, and restaurants. They may have to start factoring in tips or recurring transfers between friends and family. Setting aside a certain amount to be regularly transferred to a savings account can help avoid overspending, even when income is limited.
College Spending: The true test of money management for teens comes during college. After high school, teenagers are faced regularly with choices they likely weren't making before. When it comes to spending money on food and drinks, this can range anywhere from participating in school meal plans versus dining off campus, to complicated coffee orders and preparing snacks in their dorm rooms. Check out lots of ways to save money during college here, and try having regular, transparent discussions with your child before and during the college years about the types of decisions they're making.
According to Yahoo.com, 47% of people age 18 to 24 drink coffee every morning, and cramming for tests and research papers tends to increase that pricey habit. See if there are beverage options supported by your child's school dining plan that could cut down on outside costs or consider stocking their dorm room with a coffee maker and agree to make trips to the local coffee shop less frequently.
If that doesn't work, try hitting them with the facts – the Perfect Brew reports that American men and women spend between $1,900 to $2,400 per year on their coffee habit, a number which is only likely to increase over time. At that rate, your child could be spending close to $50,000 on coffee over the span of 20 years – a figure which could make a compelling case to save or spend their money on something more valuable!
See More Ways to Save Money During College
Explore Now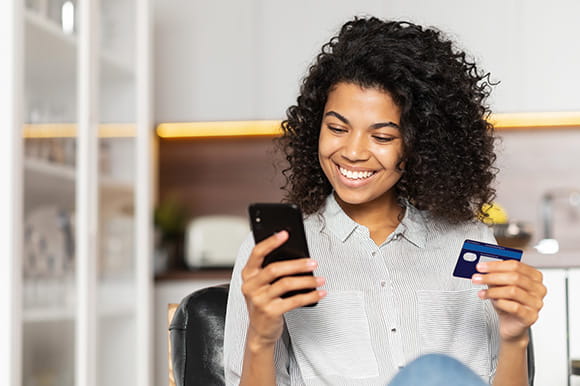 Online Budgeting Tools for Teens
In addition to ongoing conversations about healthy spending, you can also help your kids form better habits early in life by teaching them to regularly monitor their account balances and transaction history. It may sound simple, but it's important to know how much you have in order to avoid overspending. If they have an account with Citadel, keeping an eye on Online Banking and the Citadel Mobile App is an easy, secure way to track balances from any laptop or mobile device.
If your child started early with a Kids Club Savings Account or Teen Debit Account, they may already have some practice with this. If not, consider talking to a representative when you open their first account to make sure they know how to log in, view balances, and transfer funds before they start making purchasing decisions.
If you or your family members are joint owners on your child's account, you will also have access to view balances, set up account alerts, and transfer funds from other accounts. You may decide to monitor their spending more closely as they're starting out and then decide together when they're ready for more financial independence and freedom.
When it comes to teaching kids about healthy spending, the key is a combination of educational conversations, helpful tools, and regular practice.
If you'd like to talk to an advisor about long term planning and how to build strength for your child's financial future, contact Citadel's team to schedule an appointment.