How to Be a Money-Smart Graduate Student
Category:
Personal Finance 101
Saving & Preparing for College
Topic:
Managing Finances
Budgeting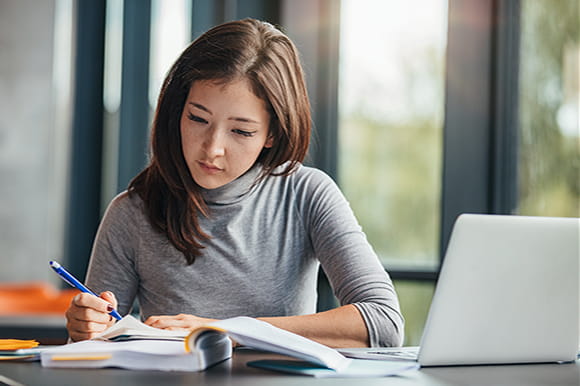 Whether you'll be pursuing a master's degree in English literature or a Ph.D. in chemical engineering this fall, life as a graduate student likely will require a good deal of thriftiness. But that doesn't mean you have to limit yourself to a steady diet of instant noodles and cereal for the foreseeable future.
Here's a look at several sustainable ways that grad students can maximize their stipends or other income and cut costs in the process.
In This Article
• Find a Roommate
• Catch the Bus
• Use Student Discounts
• Tackle Debt, Save What You Can
• The Bottom Line
Find a roommate
Sharing a house or an apartment with others may have taken some getting used to as an undergraduate. By now, though, you're probably a seasoned veteran. And that's a good thing, since finding a roommate is still one of the best ways to save money.
As well as being able to write a smaller rent check every month, you may also want to divvy up utilities and split groceries. Consider using an app like Roomi to find someone who has similar attitudes toward noise and cleanliness, which can reduce tension down the road.
Catch the bus
Unlike your first college stint, you probably won't be running back and forth between the far corners of your school's campus to get to class. In grad school, you'll probably spend most of your time in one or two buildings. A car, therefore, may not be essential. Instead, use a bike or hop on public transportation. Many schools offer subsidized transit passes to lighten the load on students' finances.
Use student discounts
It can be disheartening to create a budget only to find that there isn't much money left over for meals out or nights at the neighborhood bar. But if you take advantage of student discounts — and memorize that bar's happy hour schedule — having a good time doesn't have to put a major dent in your wallet.
From movie theaters to museums, many places offer student discounts. Although saving a couple of bucks may not seem like much, it'll make a difference over time. This extra cash can then be put toward your future, either by eliminating debt or saving for retirement.
Tackle debt, save what you can
Only about 1 in 10 millennials say they feel "very confident" that they'll have enough cash for retirement, according to a recent survey. If you're worried about running out of money during your later years, consider starting to set aside some of your income now. A good amount to shoot for is about 10% of your monthly earnings.
You'll also be doing your future self a huge favor by slashing as much credit card or student loan debt as possible. Also, do your best not to rack up any new consumer debt. Use your plastic only in emergencies.
The Bottom Line
Pursuing an advanced degree can be an incredibly rewarding experience, but not financially, at least not right away. It's therefore essential to take advantage of all the breaks you can get, such as subsidized transportation passes and other student discounts. That way, the only thing you'll graduate with is more knowledge, and not mountains of credit card debt.
© Copyright 2016 NerdWallet, Inc. All Rights Reserved