Citadel's Website Honored with Gold Davey Award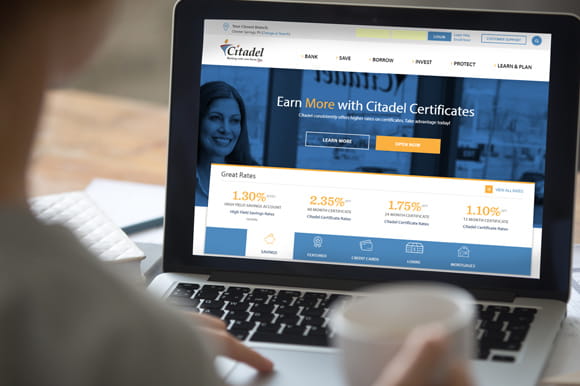 Redesigned CitadelBanking.com Receives Recognition
EXTON, Pa. — Citadel's redesigned website was recently honored with a 2017 Gold Davey Award. With nearly 4,000 entries from across the U.S. and around the world, the Davey Awards honor the finest creative work from the best small agencies, firms, and companies worldwide. Citadel's new website won for its design and development in partnership with TBG (The Berndt Group), headquartered in Baltimore.

The Davey Awards are sponsored by The International Academy of the Visual Arts (IAVA), an organization consisting of top-tier media, advertising, and marketing professionals from the world's leading organizations and firms.

"Citadel is honored to be recognized with a Gold Davey Award for our redesigned website," said Michael Schnably, senior vice president, Citadel. "Designing the new, simplified user experience we have today required extreme dedication from both the Citadel and TBG teams. We are proud to offer our customers an award-winning digital experience."

The new CitadelBanking.com launched in June, and Citadel and TBG designed the new site using the Sitecore CMS platform. The team focused on making the user experience simple, convenient, and interactive. Another focal point was adding informative, relevant financial literacy content based on life milestones such as a first job, getting married, starting a family, and retirement.

Baltimore-based TBG (The Berndt Group) is an award-winning, national digital agency and Sitecore Gold partner focused on meaningful digital transformations that combine leading user experience, implementation of platforms and automation, improved digital operations, and the adoption of best practices around personalization and user engagement.

To explore Citadel's award-winning website, visit CitadelBanking.com.


CONTACT:
Abigail Brooks
(610) 466-6896
AbigailBrooks@CitadelBanking.com