Debit or Credit Card: What's the Difference?
Category:
Personal Finance 101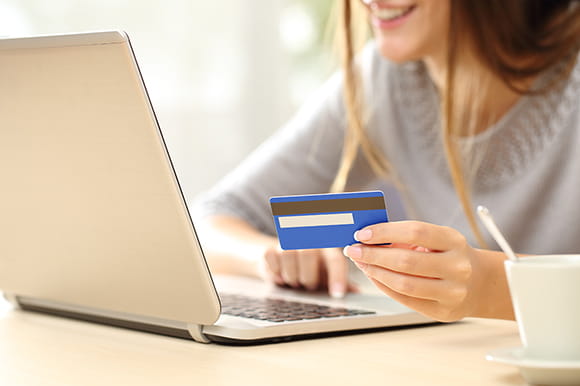 When it comes to making purchases, not all plastic acts the same.
Debit cards and credit cards both offer a convenient way to pay without cash or checks, and both are accepted in nearly all the same places. But that's where the similarities end.
The fundamental differences are where the money comes from, and what it can cost.
Debit cards typically pull funds from a checking account, while credit cards charge purchases using a line of credit. With a debit card, you're spending money from your own funds. Use a credit card and you're borrowing the money and eventually will have to pay it back to the card issuer, perhaps including interest.
In This Article
• Debit Card Pros
• Debit Card Cons
• Credit Card Pros
• Credit Card Cons
Debit Card Pros
The biggest benefit of using a debit card to make purchases is that you're not creating debt and the interest it can accumulate. So if you're looking to stay (or become) debt-free, a debit card is probably the way to go.
Using a debit card also helps free you from the interest burden that can come with using credit card. Unless you're paying off the balance every month, whatever charges you make accrue interest. And that can end up costing you a lot.
Debit Card Cons
The biggest drawback to debit cards is the potential for spending more than you have in your account, which can result in overdraft fees. This can get expensive quickly. So it's important to keep track of your available funds and not spend what you don't have.
Disputed charges can be more difficult to resolve when a debit card is used instead of a credit card. You also can't improve your credit score by using a debit card.
Credit Card Pros
Many credit cards provide rewards when they're used, like points that can be cashed in for store discounts or travel benefits. You can also employ this type of plastic practically everywhere, including abroad.
Credit cards can also provide a financial backup in case of an emergency such as an unexpected job loss, hospitalization or car repair. Some consumers use them to pay bills, then pay off that balance every month. That can increase those rewards points, and using a credit card responsibly also helps boost your credit score. A better score can pay off in the long run by helping you qualify for lower interest rates on debt, including a mortgage or other loans and new credit card accounts.
Learn about Citadel's credit card options and rewards. Compare Today.
Credit Card Cons
One of the biggest drawbacks of spending with a credit card is the interest on unpaid balances that can pile up if you don't pay it off each month. A high interest rate can drag you deeper and deeper into debt if you let the unpaid amount rise.
Credit cards also make it easy to spend money you don't have and become detached from your spending. If you're not careful, it's easy to fall into suffocating debt, start missing payments and damage your credit rating. That can make it harder to borrow money in the future.
If you miss a payment, you may be charged a late fee, and between that and interest on an unpaid balance, costs can add up quickly. Plus any missed payment can harm your credit.
So when you're trying to decide which plastic to swipe at the checkout counter, keep in mind the costs and benefits of both, and make the appropriate choice.
© Copyright 2016 NerdWallet, Inc. All Rights Reserved
Citadel offers a debit card that earns rewards!
Learn More