Lancaster's Extraordinary Give
The Extraordinary Give is Lancaster County's largest day of giving. Donors and local business come together to show support for the Lancaster County community and give a little extra to those who need it most. This year, on November 16, 2018 the Extraordinary Give raised over $10.2 million for local nonprofits and charitable organizations.
In just 6 days of giving, the Extraordinary Give has raised more than $31 MILLION for organizations across the Lancaster community!
Citadel Gets Involved
As a dedicated business in the Lancaster community, Citadel participated this year to help stretch donations to a specific non-profit organization in Lancaster County. With Citadel's commitment to putting our customers first, we asked YOU to nominate your favorite local non-profit in Lancaster County to be our beneficiary organization — and Lancaster's Aaron Acres won!
On November 16, Citadel employees joined forces with the Aaron's Acres team out in the community to raise awareness and funds. Thanks to generous donors, community members, and a corporate donation from Citadel, we were able to raise $32,267 to support Aaron's Acres programs.
About Aaron's Acres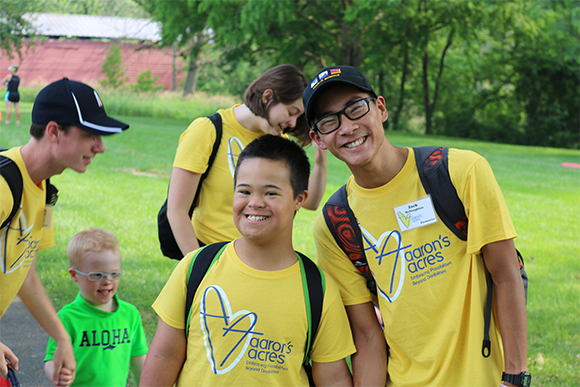 Since 1998, Aaron's Acres has provided children and young adults with special needs something very unique — possibility. The possibility to learn, to grow, and to succeed despite any challenges. With every family they serve, their goal is always the same: to provide social and recreational programs that nurture important socialization and communication skills. All children regardless of ability can partake in the Aaron's Acres experience. Citadel is extremely proud to be supporting Aaron's Acres through the Extraordinary Give!
About Aaron's Acres
Aaron's Acres provides individuals with developmental disabilities, ages 5-21, with year-round therapeutically based age-appropriate recreation programs directed by specially trained and certified staff in a supportive environment that enhances socialization and communication skills.
For more information, visit aaronsacres.org.
Learn more about our charitable contributions, and community involvement.
Learn More
*The Extraordinary Give Official Rules
View *The Extraordinary Give Official Rules
OFFICIAL RULES OF THE EXTRAORDINARY GIVE NON-PROFIT NOMINATION CONTEST
NO PURCHASE IS NECESSARY TO ENTER OR WIN. A PURCHASE OR PAYMENT OF ANY KIND WILL NOT INCREASE YOUR CHANCES OF WINNING.
This Contest is in no way sponsored, endorsed or administered by, or associated with, Facebook, Twitter, Instagram or any other social network or platform. By entering, you acknowledge and understand that you are providing your information to Contest Entities, and not to, Facebook, Twitter, Instagram or other social network or platform.
Agreement to Rules:
Sponsor: The Sponsor of the Contest is Citadel Federal Credit Union (the "Sponsor").
Administrator: The Administrator of the Contest is Citadel Federal Credit Union. ("Administrator" also known as "Citadel").
The Sponsor and Administrator are collectively referred to herein as "Contest Entities".
Eligibility: Organizations nominated must be a valid 501(c)(3) public charity that is sub classified as 509a1, 509a2, or 509a3 (Type 1, Type 2, or Type 3 Functionally Integrated supporting organization). The Contest is open only to non-profit organizations that serve residents of Lancaster County, Pennsylvania. Organizations must also have filed a recent 990 and have had an independent financial review or audit completed within the last 2 years.
Contest Entities, prize providers, and their parent, subsidiary and affiliate companies, Citadel Board of Directors, employees, agents and suppliers, as well as the immediate family (spouse, parents, siblings and children) and household members of each such employee are not eligible to participate.
All Entrants and potential winners are subject to verification by the Contest Entities, prize providers, subsidiary and affiliate companies, employees, agents, and suppliers at any time during the Contest Period. Entrants are subject to all applicable federal, state, and local laws and regulations. Void where prohibited.
Contest Period: The Contest begins on September 18 and will end on September 26.
Entry Period – Nominators have the opportunity to nominate their favorite local non-profit. The top organization will be chosen for the second round. "Top" is based on number of votes, the quality of the nomination, and the impact the organization's overall mission has on the community. Entries will be accepted starting at 12:00 PM Eastern Time ("ET") on September 18, 2018. The Submission Period will end at 5:00 PM ET on September 26, 2018. After this time, submissions will no longer be accepted.
How to enter: During the Contest Entry Period, you may visit CitadelBanking.com/ExtraGive or follow the instructions to complete the online entry form. Entrants must complete all required fields within the form. Entries that are incomplete or do not adhere to the rules or specifications may be disqualified at the sole discretion of Citadel.
As conditions of entry into this Contest, and submitting an Entry, each Entrant:
Warrants and represents that the Entrant has the written consent, release, and/or permission of each and every identifiable individual person in the Entry to use his/her respective name or likeness to enable inclusion and use of the Entry in the manner contemplated by the Contest Entities and these Official Rules, and can make written copies of such permissions available to the Contest Entities upon request;
Acknowledges and agrees that the Contest Entities may exploit, edit, modify, reproduce, display, distribute and promote the Entry and all elements of such Entry, including, without limitation, the names and likenesses of any persons or locations embodied therein, in any and all media now known or not currently known, throughout the world in perpetuity without compensation, permission or notification to entrant or any third party. Entries become the property of Contest Entities and will not be acknowledged or returned;
Warrants and represents that Entrant's Entry is original to the Entrant and has been legally obtained and created, does not infringe the intellectual property, privacy or publicity rights or any other legal or moral rights of any third party, or violate applicable laws or regulations;
The Administrator is not obligated to use, publish, display, broadcast or promote any Entry materials submitted with an Entry; provided however that each Entrant acknowledges that the Administrator will rely on such Entrant's agreement and compliance with these Official Rules when Entrant submits or attempts to submit the entry.
Odds of Winning: The odds of winning depend on how many nominations are received.
Entry Requirements: All Entries must adhere to the following Entry Guidelines and the entire Official Rules of the Contest. Any Entry that does not adhere to these Entry Guidelines or the requirements set forth in these Official Rules is subject to disqualification from the Contest:
Entries must be in English.
Entrant must be 18 or older to participate.
The Entry may not contain information known by you to be false, inaccurate or misleading, including false, inaccurate, or misleading claims about Contest Entities or their respective products.
The Entry may not contain content which violates any law, statute, ordinance or regulation (including, but not limited to, those governing export control, consumer protection, unfair competition, anti-discrimination, and false advertising).
The Entry may not contain any violence or content that engages in, encourages, advocates, discusses with the intent to commit, or provides instructions for conduct that would constitute a criminal or civil offense or would otherwise violate any federal, state, local or international law or rule.
The Entry may not contain material or content that is, or may reasonably be considered to be, hate speech, whether directed at an individual or group, and whether based upon the race, sex, creed, national origin, religious affiliation, marital status, sexual orientation, gender identity, or language of such individual or group or that is otherwise unlawfully threatening or unlawfully harassing to any individual, partnership, corporation, or political body.
The Entry may not contain content or materials in which you impersonate another person or entity.
The Entry may not cause injury to any person or entity.
The Entry may not contain viruses, worms, bots, spyware or any other computer code that is intended to damage, interfere with, or surreptitiously intercept or expropriate any system, data or information.
Any Entry not in compliance with the above guidelines and which does not meet the requirements of these Entry Requirement and Official Rules will be disqualified.
Alternative Mode of Entry: Individuals may also enter the Contest via email. Email entries must be sent to the Administrator at AbigailBrooks@CitadelBanking.com within the timeframe of the Entry Period. Entries must contain the following information to be considered eligible: (1) Organization's name, (2) Organization's website, (3) Voter's email address or phone number, (4) Organization's mission and why they should be chosen.
Winner and Finalist Selection and Notification: One organization will be selected at the end of the Citadel Judging Period from all eligible entries received.
During the Citadel Judging Period, valid entries received during the Submission Period will be judged on the basis of the following criteria: number of votes, the quality of the nomination, and the impact the organization's overall mission has on the community.
Following the Citadel Judging Period, the finalists will be announced and posted to the Contest Site CitadelBanking.com/ExtraGive
All Entrants, Finalists and Winners are subject to verification by the Administrator. Finalists and potential winners must continue to comply with all terms and conditions outlined in these Official Rules, as winning is contingent upon fulfilling all rules and requirements.
Rights Granted by You: By entering this Contest, You understand and agree that Citadel Federal Credit Union, anyone acting on behalf of Citadel, and Citadel's licensees, successors, and assigns, shall have the right, where permitted by law, to print, publish, broadcast, distribute, and use in any media now known or hereafter developed, in perpetuity and throughout the World, without limitation, your entry, name, portrait, picture, voice, likeness, image, statements about the Contest, and biographical information for news, publicity, information, trade, advertising, public relations, and promotional purposes without any further compensation, notice, review, or consent.
Publicity:

Except where prohibited, participation in the Contest constitutes Winners' consent to Contest Entities' use of winner's name, social media identity, likeness, photograph, voice, opinions, hometown and state for promotional purposes in connection with this Contest in any media, worldwide, without further payment or consideration.

Privacy:

Information submitted by entrants will be collected by the Administrator's systems based in the United States and such collection will be subject to applicable United States laws. Entrants may withdraw personal data upon request; however, entrant will be disqualified if personal data is withdrawn prior to the determination of the Winner(s) and fulfillment of the prize(s). Information submitted by entrants is subject to the Administrator's privacy policy: https://www.citadelbanking.com/-/media/files/privacy-and-disclosures/citadel-privacy-policy-05-2018.pdf
Entrant's participation in this Contest constitutes consent for Contest Entities to use entrant's personal information solely for the purpose of administering the Contest and awarding the prizes, unless entrant has opted to receive e-mail communications from Contest Entities. For information regarding Citadel's Online Privacy & Security Policy, please visit: https://www.citadelbanking.com/about-citadel/why-citadel/citadel-disclosures-and-accessibility
Terms & Conditions: Citadel Federal Credit Union reserves the right, in its sole discretion, to cancel, terminate, modify or suspend the Contest should virus, bug, non-authorized human intervention, fraud, or other cause beyond Citadel Federal Credit Union's control corrupt or affect the administration, security, fairness, or proper conduct of the Contest. In such case, Citadel Federal Credit Union may select the Winner from all eligible entries received prior to and/or after (if appropriate) the action taken by Citadel Federal Credit Union. Citadel Federal Credit Union reserves the right, in its sole discretion, to disqualify any individual who tampers or attempts to tamper with the entry process or the operation of the Contest or website or violates these Terms & Conditions. Citadel Federal Credit Union has the right, in its sole discretion, to maintain the integrity of the Contest, to void votes for any reason, including, but not limited to: multiple entries from the same user from different IP addresses; multiple entries from the same computer in excess of that allowed by Contest rules; or the use of bots, macros, scripts, or other technical means for entering. Any attempt by an entrant to deliberately damage any website or undermine the legitimate operation of the Contest may be a violation of criminal and civil laws. Should such attempt be made, Citadel Federal Credit Union reserves the right to seek damages to the fullest extent permitted by law.
Prize: The "Prize" is your nominated organization being chosen as Citadel's Extraordinary Give charitable recipient.
Disputes: THIS CONTEST IS GOVERENED BY THE LAWS OF THE UNITED STATES OF AMERICA AND PENNSYLVANIA, WITHOUT RESPECT TO CONFLICT OF LAW DOCTRINES. As a condition of participating in the Contest, entrant agrees that: (a) under no circumstances will entrant be permitted to obtain awards for, and entrant hereby waives all rights to claim, punitive, incidental, consequential, or any other damages, other than for actual out-of-pocket expenses; (b) all causes of action arising out of or connected with this Contest or the prizes awarded, shall be resolved individually, without resort to any form of class action, exclusively by arbitration pursuant to the Rules of the American Arbitration Association, then effective; and (c) any and all claims, judgments, and awards shall be limited to actual out-of-pocket costs incurred and in no event shall entrant be entitled to receive attorneys' fees or other legal costs. Contest Entities reserve the right to modify prize award procedures. The Contest and these Official Rules, and the validity, construction, performance, and enforcement thereof, shall be governed by and construed in accordance with the laws of the State of Pennsylvania, without giving effect to any choice of law or conflict of law rules (whether of the State of Pennsylvania or any other jurisdiction), which would cause the application of the laws of any jurisdiction other than the State of Pennsylvania.
The Contest and all accompanying materials are © 2018 Citadel Federal Credit Union.
Sponsor: The Sponsor of the Sweepstakes is Citadel Federal Credit Union, 520 Eagleview Blvd, Exton, PA 19341.