Add your Citadel Mastercard to your digital wallet to make quick and secure payments using your mobile device.
Learn More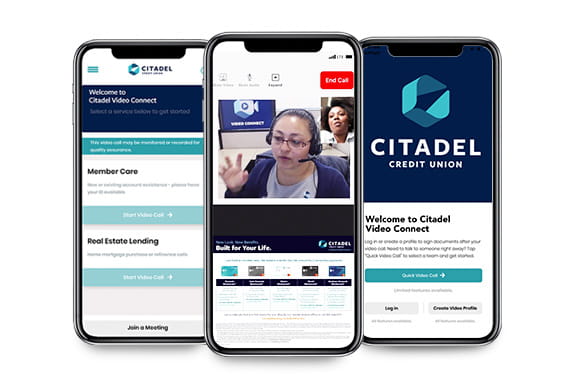 Chat Face-to-Face With Citadel Video Connect
Citadel's Video Specialists are just a few clicks away with Video Connect. Skip the trip to the branch office and video chat safely and securely from your preferred location. Learn More.
On your laptop, desktop, or mobile device, our Video Specialists can help you complete almost any banking-related task:
✔ Open a new account
✔ Add a product to a current account
✔ Apply for a loan
✔ Talk to a business banking expert

*Agreements and Disclosures
View *Agreements and Disclosures
*Information accurate as of and may be modified or withdrawn at any time. You can earn up to $20 cash on eligible online net purchases to your Citadel credit card at Amazon.com™, Walmart.com™, and Target.com™ ("participating merchants") from 8/1/2021 through 8/15/21 ("promotional period"). Total eligible purchases are calculated by summing purchases minus any credits or returns ("net purchases"). We will credit your primary Citadel savings account with $10 for total net purchases equaling between $150 - $299.99 OR $20 for total net purchases equaling $300 or more at participating merchants during the promotional period. Maximum credit is limited to $20 per account. In-store purchases are not applicable to this promotion. Purchases will be tracked using the Merchant Category Code. Each merchant designates a category code to assign to purchases. Although most eligible purchases will use merchant category codes selected for this offer, it is possible some may be designated a merchant category code that is not classified as such and therefore any purchases made will not qualify for the promotion. Citadel Federal Credit Union does not provide, endorse, or guarantee any third-party product, service, information, or recommendation listed above. The third parties listed are not affiliated with Citadel Federal Credit Union and are solely responsible for their products and services. All trademarks are the property of their respective owners. Award will be posted to your primary Citadel savings account within 90 days from end of promotional period. Account must be active and in good standing at the time of posting. Offer valid to existing Citadel credit card customers only and not available for business accounts. The value of this award will be reported to the IRS and the recipient is responsible for any federal, state, or local taxes on this offer.