Making Crucial Estate Decisions
Category:
Estate Planning & Long Term Care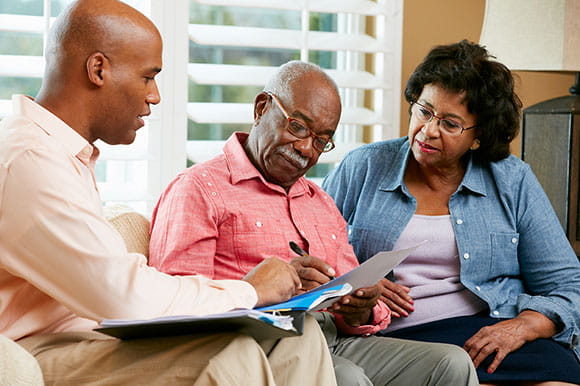 As unsettling as it may be, it's important to create a detailed plan that describes where your belongings will go after you die. A well-thought-out estate plan ensures that the distribution of your assets is handled with accuracy and care. That's why it's important to learn about the kinds of decisions you'll need to make in your will. Here are several pointers to get you started.
Components of an Estate
An estate consists of everything a person owns, including real estate, cars and investments. It also includes funds from retirement accounts and life insurance. In short, anything under your name that has value is considered part of your estate.
Estate planning isn't a task reserved for the extremely wealthy or only people above a certain age. It's in everyone's best interest to take the time to decide where their money and possessions will go after they die. That way, families won't be caught off guard in case the unexpected happens.
The Importance of Writing a Will
Writing a will is a central component of the estate planning process. If you belong to the 44% of Americans who haven't done so, it's crucial to get started. Otherwise, state laws will dictate who inherits your assets. In most states, your closest relatives will receive your belongings. If you don't have a spouse, children or any other surviving family members, your assets typically go to the state.
What's more, without a will to look at, it'll be up to the courts to determine who should become the guardian for any underage children you have.
Key Decisions
Although you'll have to spend a sizable chunk of time determining where certain keepsakes and other property should go, making estate decisions goes beyond simply divvying up your things. In your will, you'll need to name someone to have power of attorney. That person will be responsible for handling your finances in case you're incapacitated and will ensure that the provisions of your will are carried out after your death.
You'll also need to designate someone as your medical power of attorney to make important medical decisions in case you aren't able to. Estate planning also entails making funeral arrangements, which includes how those proceedings will be paid for.
Your individual circumstances will determine the other kinds of decisions you'll need to make. For example, if you have children under the age of 18, you'll need to name a guardian in case both you and your spouse die. Business owners, on the other hand, need to decide whom to hand off their company to in case they die.
Final Word
Working with an estate planner or lawyer can go a long way in ensuring that your plans are executed correctly. Transferring property and money from one person to another can raise complicated tax issues, and sitting down with a lawyer to write a will can save you money on potential court costs and other fees. Working with a professional costs $100 to $1,000, whereas writing a simple will online will run you as little as $20. If you do decide to write a will on your own, keep in mind that two witnesses have to be present while you sign and date the document.
Regardless of whether you end up writing a will on your own or with the help of a lawyer, your main goal should be to simply have one in place. Although it's an activity that few people enjoy, covering all of your bases in your estate plan will make the distribution of your assets and property a much smoother process after you die.
© Copyright 2016 NerdWallet, Inc. All Rights Reserved
Get information about wealth transfer and estate planning services through Citadel.
Learn More