Budgeting for Kids' Sports Is Hard: Here Are a Few Tips
Category:
Personal Finance 101
Starting a Family
Topic:
Budgeting
Children and Money
Personal Finances
Having your child motivated by a sport can be really exciting—particularly if they choose one that you can play together and bond over. Taking part in organized youth sports can be an opportunity for your child to learn and grown alongside others, and help them to build priceless experiences. Unfortunately, however, when it comes down to it, youth sports are anything but priceless. There are a slew of costs that come with signing up for a team, buying equipment, traveling to competitions, and more.
Budgeting for your children is already hard. But if you want your kids to have the option to participate in a specific physical activity, it's important that you educate yourself on how to minimize the costs without affecting their experience.
Why Are Kids Sports So Expensive?
While kids team sports in Pennsylvania cost an average of $100 to $500 per month in fees and equipment—or $1,200 to $6,000 a year—the price range between different sports is significant. Being part of a traveling ice hockey team can add up to an annual cost of between $10,000 to $20,000. Meanwhile, having your child play on a volleyball team will make a much smaller dent on your bank account at around $225 for a season. Of course, these numbers vary greatly within each sport depending on the level at which your child competes—so keep this in mind as you review your yearly budgets.
The costs of sports are posing a barrier to participation. In Pennsylvania specifically, children from higher-income families are far more likely to play a team sport than children that come from a lower-income bracket. The gap is significant: 69% of children from families with over $100,000 in yearly household income play a team sport vs. 34% of those from families that make under $25,000 a year.
With Pennsylvania's average income sitting at $59,195 a year, youth participation in team sports is just under 57%. But even if you do sit around the state average, being able to pay for your child's sports can still be challenging—especially when you have more than one child to account for.
Look into opening a Kids Club Account to help save for sports.
Get Started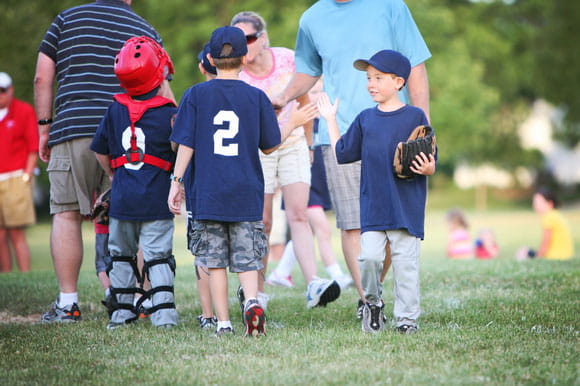 Four Tips to Help You Budget for Kids Sports
There is more than one way for your child to participate in the sport they love—and some ways are cheaper than others. As you look for programs that appeal to your child but don't break the bank, consider the following:
Build Sports into Your Savings
Do some research up front to find out how much a given sport costs on average. That way, when you and your partner look at your budget for the year, you can evaluate how it fits in. See where you can cut back on spending. And consider starting a savings account specifically for your children's activities, and set up automatic contributions on pay day. Then, during the off season, your money can work for you and generate interest that you can put towards youth sports.
Sign up for Camps Instead of Seasons
If your child is open to a number of sports, start with shorter spurts at camps instead of committing to a full season. This way, you can give your child a taste of hockey, for example, and at a reasonable price of $150–$175, with gear included. They can also try volleyball for free with The Philadelphia School.
Consider the Alternatives
The value of sports is that they give your child the opportunity to interact with other children and participate in physical activities. But if the budget doesn't add up this year, consider engaging other parents in your community to host informal meetups at your local park, and take turns leading different activities.
Look into Sibling Discounts
Sibling discounts and other special deals are always on offer in different clubs. Be on the lookout for things like a 10% off sibling deal at your local football or baseball clubs.
Research Sponsorships
If you're interested in finding a way to reduce costs for the whole team, consider working with a local business to set up a sponsorship to help offset the costs of general fees like coaches and equipment.
Incorporating kids' sports into your financial budget can be hard, but the happiness that comes with their participation makes for a significant return on your investment.
At Citadel, we understand that budgeting for kid's sports is a difficult task—having another set of hands may help! Contact us to learn more about how we can assist you in preparing for your child's future.
Looking for more tips on how to manage expenses with children? We can help.
Learn More