Your Teen is Smart. Show Them How to Spend Like It.
When it's time for your teenager to get an intro to everyday spending, you can start strong with a free debit card that's all their own. Citadel's Teen Debit Accounts are designed to encourage teachable moments and help families practice spending and saving together.
Starting at age 13, teens are eligible for their own account with joint ownership shared by a parent or guardian. You can easily set up direct deposit for paychecks from a summer job, or send and receive payments from friends and family when you connect the card to cash apps like Venmo, PayPal, or Zelle.
How to Open an Account
Every Citadel member starts with a savings account to establish credit union membership. If your child started early with a Kids Club account, they're already a member and you can open their new checking account through Online Banking.
If your child is not a Citadel member yet, you can open a Teen Debit Account online, or we can help you get started at a Citadel branch or via Video Connect.
What You'll Need:
Child's birth certificate and social security card (or driver's license if applicable)
Minors are not required to be present to open the account
Once you're set up, both checking and savings account balances and activity can be viewed any time via Online and Mobile Banking, so you can build a beginners' budget, transfer cash between accounts, and make adjustments as they grow.
Why Choose Citadel?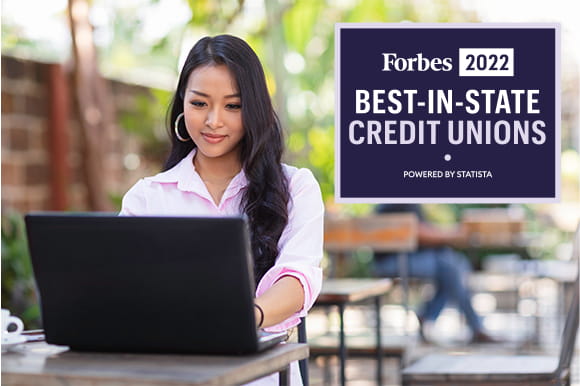 Citadel is a not-for-profit credit union that exists to serve the people, businesses, and neighborhoods of Greater Philadelphia, so they can prosper. We provide our members with all things banking, plus the educational resources and guidance to build and maintain financial security.
Here's why you should join us:

Better rates & low (or no!) fees


No tricks or hidden selling tactics


Personalized banking experiences, online & in-person


Open to anyone who lives or spends time in Southeast PA


All you need to do is open a $5 savings account to join

Additional Features
They're not a little kid anymore, and they don't need a little kids' account. Teenagers can choose from either of Citadel's standard checking accounts with all the original features and benefits – without fees or minimums.1
Cashback Rewards Checking for Teenagers
No fees from Citadel when you get cash at any ATM2
Free overdraft transfers from your Citadel savings account3
No monthly service charge or minimum balance until age 211
An account that grows with you: Potentially earn 1% cash back up to $120 per year4
Note: A monthly qualifying direct deposit of $1,000 or an average daily balance of $5,000 is required to earn cash back.
Free Checking for Teenagers
No minimum balance or monthly service charge before or after age 215
With both accounts, you can also:
Get a free Contactless Debit Card to pay for everyday purchases online and in-person
Monitor account activity and check balances 24/7 with Citadel's free Mobile App and Online Banking
Make secure payments from a mobile device when you add your card to digital wallets like Apple Pay, Google Pay, Microsoft Pay, or Samsung Pay
Connect your Citadel savings account to practice healthy saving and budgeting habits
See which accounts are connected to your card by selecting "Debit/Credit Card Details" under "Manage Cards" in Online and Mobile Banking
Set up overdraft protection from another savings or checking account3
Turn your card on or off if it's lost or stolen using Card Control
Get cash at Citadel ATMs and branches with no fees
Make online transfers to and from other financial institutions
Snap a picture in the Mobile Banking app to deposit checks
View monthly eStatements to see transaction history
Access Bill Payer at age 18
Set up Courtesy Pay at age 17
Same day issuing of debit and credit cards at most Citadel branch locations
Building Strength in Education
At Citadel, we know it takes a village, which is why we support local teachers, as well as students and families. Empowering our community will always remain a priority because together, anything is possible.
Browse resources for parents and financial education.
Explore Now
Cashback Rewards Checking Rate
AS HIGH AS
Cashback Rewards Checking
$5,000+
Security
Citadel is committed to helping you protect your hard-earned money. All deposits are federally insured up to $250,000 or more per customer.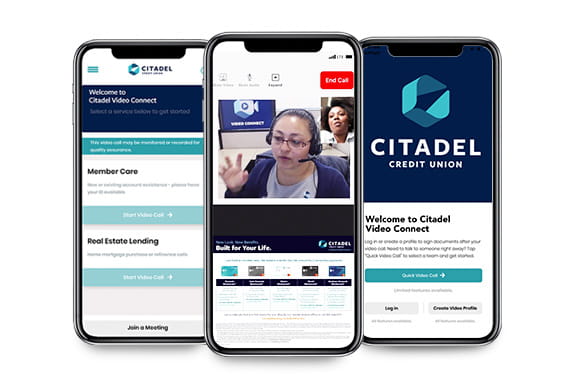 Chat Face-to-Face With Citadel Video Connect
Citadel's Video Specialists are just a few clicks away with Video Connect. Skip the trip to the branch office and video chat safely and securely from your preferred location. Learn More.
On your laptop, desktop, or mobile device, our Video Specialists can help you complete almost any banking-related task:
✔ Open a new account
✔ Add a product to a current account
✔ Apply for a loan
✔ Talk to a business banking expert

Agreements and Disclosures
View Agreements and Disclosures
All standard account requirements apply. Information accurate as of and subject to change without notice. Offers may be modified or withdrawn at any time. Fees may reduce earnings.
1 There is no minimum balance or monthly service fee for account holders under the age of 21. After the primary account holder is 21 years of age or older, they are subject to fees if account requirements are not met. To earn Cashback Rewards and avoid $10 monthly service fee, one of the following criteria must be met: Receive monthly qualifying direct deposit(s), as previously defined, totaling $1,000 or more OR maintain average daily balance of $5,000 in your Cashback Rewards Checking Account. Account must be active and in good standing in order to receive Cashback Rewards Checking offers. Not available for business accounts or public funds. Limit to 5 Cashback Rewards Checking accounts per member. A qualifying direct deposit is defined as a recurring direct deposit of payroll, pension, Social Security, Government benefits, or other regular monthly income, electronically deposited into the account. Internal or external transfers from one account to another, mobile deposits, and deposits made at a banking location, ATM, or through Online and Mobile Banking do not qualify as a direct deposit. For a complete list of checking fees, visit Citadel's fee schedule.
2 ATM transactions at non-Citadel ATMs may be subject to a surcharge from the ATM owner. For a list of ATMs with no surcharge, visit Citadelbanking.com/atm.
3 Citadel offers several overdraft protection options including Courtesy Pay and automatic transfers from a Citadel savings or loan account. An overdraft occurs when the available balance in your account is not sufficient to cover a transaction. Citadel offers several options for you to avoid the extra expenses caused by a bounced check or insufficient funds. These include: transferring funds from a Citadel Savings and/or Money Market Account; advancing funds from a Citadel Personal Line of Credit; and Courtesy Pay. Citadel offers Courtesy Pay for its members and may pay overdrafts for the following types of transactions: checks, ACH withdrawals, Bill Payer payments, and/or recurring debit card transactions (e.g., monthly payments debited from your account). As a Citadel member, if you have a checking account and qualify, you will automatically be enrolled in Courtesy Pay when you open your account. If you wish to use one of the other options, which may be free or less expensive than Courtesy Pay, you can sign up at any time. We pay overdrafts at our discretion, which means we do not guarantee that we will always authorize and pay any type of transaction. If we do not pay an overdraft, your transaction will be declined and not paid. If you want to use Courtesy Pay to pay overdrafts for one time, everyday debit card transactions (e.g. Starbucks®, Home Depot®, grocery stores, gas stations, etc.), you must opt in and give us your permission. You can opt in by: completing the opt-in form in Online and Mobile Banking by selecting 'Courtesy Pay' under 'Accounts' in the main menu; visiting any Citadel Branch; calling Citadel toll free at (800) 666-0191; or you cannot use Courtesy Pay to pay for overdrafts on ATM withdrawals. For a complete list of fees associated with overdrafts, please refer to Citadel's fee schedule.
4 Earn Up to $120 in Cashback Rewards Annually: When Cashback Rewards transaction requirements are met, earn 1% cash back on Citadel debit and/or credit card purchases that post to your account each statement cycle from Citadel debit and/or credit cards linked to your Citadel Cashback Rewards Checking Account. Maximum Cashback Rewards: $10 per month. Cashback Rewards will be calculated at month end on net purchases (purchases minus any credit or returns). Available Cashback Rewards may be redeemed at any time during the year through Online and Mobile Banking or by contacting Citadel. Earned Cashback Rewards can only be deposited to your Cashback Rewards Checking Account. For full Cashback Rewards program details and disclosures, visit CitadelBanking.com/CashbackChecking.
5 A $5 monthly inactivity fee will apply if there is no activity on any Citadel account for one year – this fee is waived if combined balance of all deposit accounts is $500 or more. Fee does not apply to primary account holders less than 13 years of age. Inactivity is defined as a 365-day period during which there were no customer-initiated transactions on any Citadel account.