Enjoy faster, easier online shopping this holiday season!
Online Holiday Shopping Just Got Better
Quicker Online Checkouts—And More Time For You—With Citadel Mastercard®
The holidays are almost here, and chances are that online shopping is part of your plan for gifting. How can you make it faster and easier?
Add your Citadel Mastercard® as the preferred payment option at your favorite online merchants like Amazon, HSN, Walmart, Etsy, DoorDash, CVS, and others.
Ready to check out? Your card is already there! Just select it in the payment options – no forms, no need to type your card number.
Check Out Faster Than Ever
Looking for an even easier way to checkout online? Add your card to Click to Pay for a fast, secure checkout experience, without ever having to remember a password. Get started today by visiting Mastercard.com/clicktopay.
Unsure how to enroll in Click to Pay? Learn more.
Enroll your Mastercard® in Click to Pay and you could win $500.*
Get Started
Every Citadel Mastercard gets:
25-day grace period on purchases

MasterCard Global Service for lost or stolen cards
Extended warranty on select purchases

Price protection
Still have questions? Contact us today!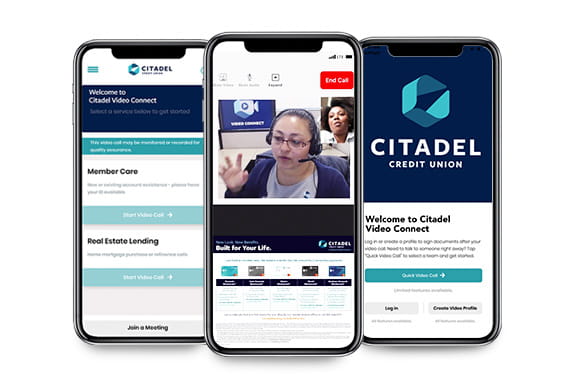 Introducing Citadel Video Connect
We've introduced a new way to bank, making it easier than ever to chat face-to-face with a local Citadel team member. The best part? You can connect with us safely and securely from anywhere — with just a few clicks on your laptop, desktop computer, or your mobile device. Learn more.

Find an ATM or Branch Near You
*Agreements and Disclosures