Congratulations, You're Pre-Qualified!*
Enjoy 0% Intro APR

**

for 15 Months On Purchases.
*Offers are subject to credit approval. APR = Annual Percentage Rate. Read Full Disclosures.
Looking for a credit card with cash back? With the Citadel Cash Rewards Mastercard®, enjoy 1.5% cash back on your everyday purchases, a generous credit limit, enhanced security and protection, and a low annual percentage rate. Earn even more cash back on your credit card when you shop at our Cash Rewards Mall. In addition, Cash Rewards can be easily deposited right into your Citadel checking or savings account! Open a Citadel Cash Rewards Mastercard and start earning rewards today!
Plus, enjoy 6.99% intro APR** for 15 months on balance transfers.
Looking to increase your credit card limit? Apply Now.
Cash Rewards Mastercard Rate
AS LOW AS
Cash Rewards Mastercard
variable APR
Additional Features
Contactless payments – simply Tap & Go

TM

Deposit cash rewards into your Citadel checking or savings account
Earn more cash back through our Cash Rewards Mall
Cash access
No Balance Transfer Fees. Learn More.
Generous credit limits
25-day grace period on purchases
ID theft resolution
Mastercard $0 Liability Protection
Mastercard Global Service for lost or stolen cards
View the full Mastercard Guide to Benefits to learn more.
Digital Banking Tools
Are you a small-business owner? This card is also available as a business credit card.
Best For...
Those looking to earn cash back on every purchase
Balance Transfer Calculator
You might realize significant monthly interest savings by transferring your higher rate credit card balances to a lower rate credit card. Use this balance transfer calculator to help determine those potential savings.
Close Results
Results
Fees
5.0%
5.0% Cash Advance Fee (% of amount advanced; $10 minimum)
1.1%
Foreign Transaction Fee (% of transaction amount in U.S. Dollars)
$25
$25 Returned Check Fee
Security
Your Citadel Mastercard carries EMV chip technology for greater protection against unauthorized use.


Our $0 liability guarantee helps protect you from fraudulent charges.


Automated fraud alerts can notify you about possible fraudulent activity on your account. Learn more.


Communicate with us securely through our Online Banking secure messaging system.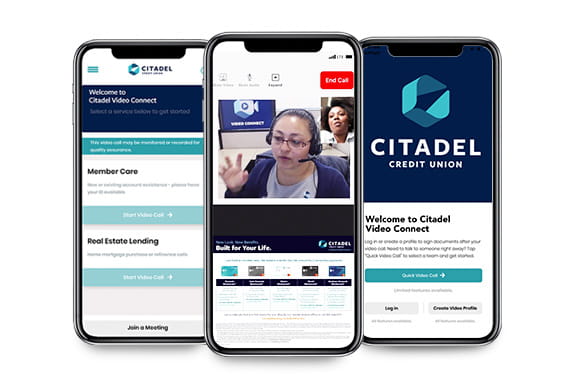 Chat Face-to-Face With Citadel Video Connect
Citadel's Video Specialists are just a few clicks away with Video Connect. Skip the trip to the branch office and video chat safely and securely from your preferred location. Learn More.
On your laptop, desktop, or mobile device, our Video Specialists can help you complete almost any banking-related task:
✔ Open a new account
✔ Add a product to a current account
✔ Apply for a loan
✔ Talk to a business banking expert

Find an ATM or Branch Near You
Frequently Asked Questions
*Agreements and Disclosures
View *Agreements and Disclosures
Information accurate as of and is subject to change without notice. APR=Annual Percentage Rate. Standard rates range from 15.74% - 17.99% APR, based on credit worthiness. Offer subject to credit approval. Applicant must be at least 18 years of age. Variable APR is an interest rate that can vary with the market based on the Prime Rate. 1.1% Foreign transaction fee applies for transactions initiated in foreign currencies. Cash advance fee is up to 5% of amount advanced ($10 minimum). Late fee is up to $35.00. Returned Check Fee is up to $25.00. There is no transaction fee for transferring a balance; interest will accrue on any balance transfer in accordance with the Cardholder terms and agreement. All terms, including fees and APRs for new transactions, may be subject to change. See Terms and Conditions for details.
*Pre-Qualified: Information contained in your credit report was used in connection with this offer. You received this offer because you satisfied our pre-established criteria for creditworthiness used to select individuals for this offer and based on an initial determination that you met Citadel Credit Union's credit standards.
**APR Promotional Offer
For qualified applicants, introductory APR is 0% for 15 months from credit card open date for purchases and 6.99% for 15 months for balance transfers, then the standard APR applies. Standard APR and credit card approval based on creditworthiness. New Citadel Mastercard accounts only; not available on current Citadel Mastercard accounts or balances. The promotional APR does not apply to cash advances. Offer may be modified or withdrawn at any time. APR Promotional offer expires March 28, 2023.
All Credit Card Rewards Offers
Rewards are earned on purchases minus any credits or returns ("net purchases").
Cash advances and balance transfers are not considered purchases and will not earn rewards.
Cash Rewards Mastercard
Earn 1.5% cash back on net purchases.
Offers may be modified or withdrawn at any time. Ask for full details.