Get Up to a $400 Balance Transfer Bonus*
Transfer Your Balances With No Balance Transfer Fees
It's easy to transfer balances to your Citadel credit card! Receive a cash bonus of 2% of your balance transfer amount, up to $400*, when you transfer your balance to your Citadel Mastercard.® Plus, there are no balance transfer fees. Your cash bonus will be deposited to your Citadel savings account within 90 days after your balance transfer takes place.
Transferring your balance is easy:
Hurry, this offer ends March 10, 2023!
*Offers are subject to credit approval. APR = Annual Percentage Rate. Read Full Disclosures.
Credit Card Rates
AS LOW AS
Cash Rewards Mastercard
variable APR
AS LOW AS
Rewards Mastercard
fixed APR
AS LOW AS
Choice Mastercard
variable APR
AS LOW AS
World Mastercard
variable APR
Turn your cards on/off, set spending limits, and manage location settings with Citadel Card Control.
Learn More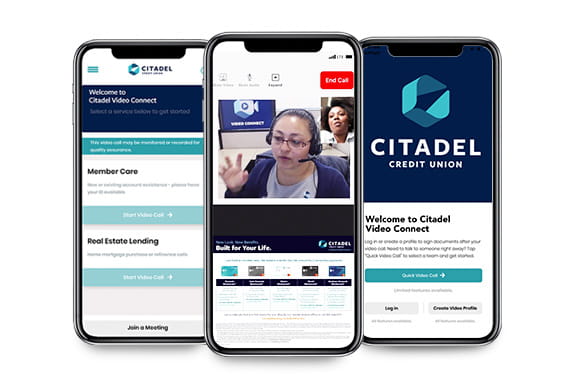 Chat Face-to-Face With Citadel Video Connect
Citadel's Video Specialists are just a few clicks away with Video Connect. Skip the trip to the branch office and video chat safely and securely from your preferred location. Learn More.
On your laptop, desktop, or mobile device, our Video Specialists can help you complete almost any banking-related task:
✔ Open a new account
✔ Add a product to a current account
✔ Apply for a loan
✔ Talk to a business banking expert

Find an ATM or Branch Near You
Balance Transfer Frequently Asked Questions
*Agreements and Disclosures
View *Agreements and Disclosures
Information accurate as of and is subject to change without notice. APR=Annual Percentage Rate. APR will be a fixed rate of 9.99% - 17.99% for Rewards Mastercard, APR will be a variable rate of 15.49%-17-99% for Cash Rewards Mastercard, APR will be a variable rate of 14.49%-17.99% for World Mastercard, and APR will be a variable rate of 11.49% - 17.99% for Choice Mastercard. All APRs are based on credit worthiness. See product pages for additional information. Offer subject to credit approval. Applicant must be at least 18 years of age. Variable APR is an interest rate that can vary with the market based on the Prime Rate. 1.1% Foreign transaction fee applies for transactions initiated in foreign currencies (excluding World Mastercard). Cash advance fee is 5% of amount advanced ($10 minimum). Late fee is up to $35.00. Returned Check Fee is $25.00. There is no transaction fee for transferring a balance; interest will accrue on any balance transfer in accordance with the Cardholder Terms and Conditions. All terms, including fees and APRs for new transactions, may be subject to change. See Terms and Conditions for details.
*2% ($400 maximum) Balance Transfer Promotion
We will credit your primary Citadel savings account with 2% of the amount of balances transferred from a non-Citadel credit card(s). Maximum credit of $400 per card account during offer period. Cash back bonus deposit will be made within 90 days from the date of the transfer. Account must be active and in good standing at the time the funds are deposited. In order to receive the bonus, balances transferred to your Citadel card must remain on the card for a minimum of 45 days. Minimum transfer amount is $500. Offer valid to existing Citadel Mastercard credit card customers only. Transfer requests must be received 2 weeks prior to payment due date so that we can process your request. If you are not able to do this, please submit a minimum payment to the creditor in order to avoid any late payment penalties. Transfers to a Citadel Mastercard are treated differently than purchases; interest on balance transfers will begin accruing immediately. Citadel will not process any balance transfer requests that are from any other existing Citadel Loan. Offer not available for Business Accounts. Balance Transfer Cash Back Bonus Offer expires March 10, 2023 and may be modified or withdrawn at any time.