We're sorry, this offer has expired. Visit our Personal Loans page to learn more.
Still have questions? Contact us today!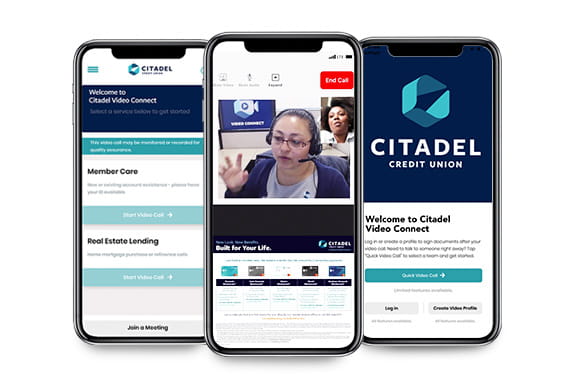 Chat Face-to-Face With Citadel Video Connect
Citadel's Video Specialists are just a few clicks away with Video Connect. Skip the trip to the branch office and video chat safely and securely from your preferred location. Learn More.
On your laptop, desktop, or mobile device, our Video Specialists can help you complete almost any banking-related task:
✔ Open a new account
✔ Add a product to a current account
✔ Apply for a loan
✔ Talk to a business banking expert

Find an ATM or Branch Near You
*Information contained in your credit report was used in connection with this offer. You received this offer because you satisfied our pre-established criteria for creditworthiness used to select individuals for this offer and based on an initial determination that you met Citadel Credit Union's credit standards. Offer expires November 19, 2023.
**Information accurate as of and is subject to change without notice. You must be at least 18 years of age to qualify. Incomplete and/or inaccurate application information may result in automatic denial of credit. If we have received a credit application from you in the last 90 days we may consider this application to be a duplicate. If approved for a loan, minimum loan amount is $500 and maximum loan amount is $25,000. APRs for Personal Loan range from 12.24% - 17.99%. The maximum term available for the 12.24% APR is 36 months. Not all applicants qualify for the lowest rate. Lowest rates reserved for the most creditworthy borrowers. Your actual rate will be within the range of rates listed and will depend on the term you select, evaluation of your creditworthiness, income, and a variety of other factors. Loan amount, APR, and availability of additional terms are based on creditworthiness. This offer may not be used to pay off or pay down any other Citadel loan. Federally Guaranteed Student Loans should not be consolidated because you will lose important federal benefits.