A Hands-on Professional Ready to Help You
Brendon Robinson, Senior Relationship Manager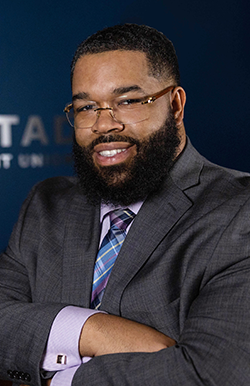 "I'm the best choice for business owners because I've worn every hat. I've been a teller, a banker, a branch manager, a business banker, a market director and most importantly, a business owner. I can relate to them on all levels and I understand what they need to win."
Brendon began his career in banking with a strong work ethic that has paved the way for his professional growth and success. With 15 years in financial services, he offers Citadel clients a unique perspective from both consumers and businesses.
Brendon takes particular satisfaction in dealing with commercial real estate and working with property managers, real estate investors and business owners with a commercial building. "If we've learned anything from this pandemic, it's that change is imminent. So as a business owner, the smartest thing you can do is secure your most expensive asset, your commercial building."
About Brendon
Brendon pursues his passion to serve his community by helping the youth learn and understand business. As the founder of The Brendon Robinson Foundation, a nonprofit helping at risk youth learn business skills, he uses this platform to address racial inequalities, build relationships, and be a part of the movement that changes these disparities.
Regional Coverage
Brendon serves business clients throughout the Greater Philadelphia area, including Bucks, Chester, and Montgomery counties.
Find an ATM or Branch Near You