Enroll in Online and Mobile Banking
Make a Payment
Thank you for financing your recent auto loan purchase through Citadel! Whether you have a Citadel checking account or a checking account from another financial institution, Citadel offers a number of secure and flexible ways for you to make your auto payments.
Citadel members with a Citadel checking account have even more options:
Pay through Online Banking and make external transfers from other financial institutions
Make your payments from anywhere, anytime using Citadel's mobile app
Use Bill Payer and manage all of your bills in one place
Can't find the answer you were looking for? Visit our Customer Support page or call (800) 666-0191 and speak to one of our representatives for answers to your questions. We're here to help.
Online and Mobile Banking
Citadel's Online and Mobile Banking is the easiest and most convenient payment option. You must first enroll in Online and Mobile Banking if you wish to make a payment through Online and Mobile Banking. Once enrolled, you can schedule your auto payment from any financial institution or pay directly from your Citadel account with a Citadel checking account.
IMPORTANT: Your 6-digit account number is required to enroll in Online and Mobile Banking. You can find your account number on your Billing Statement.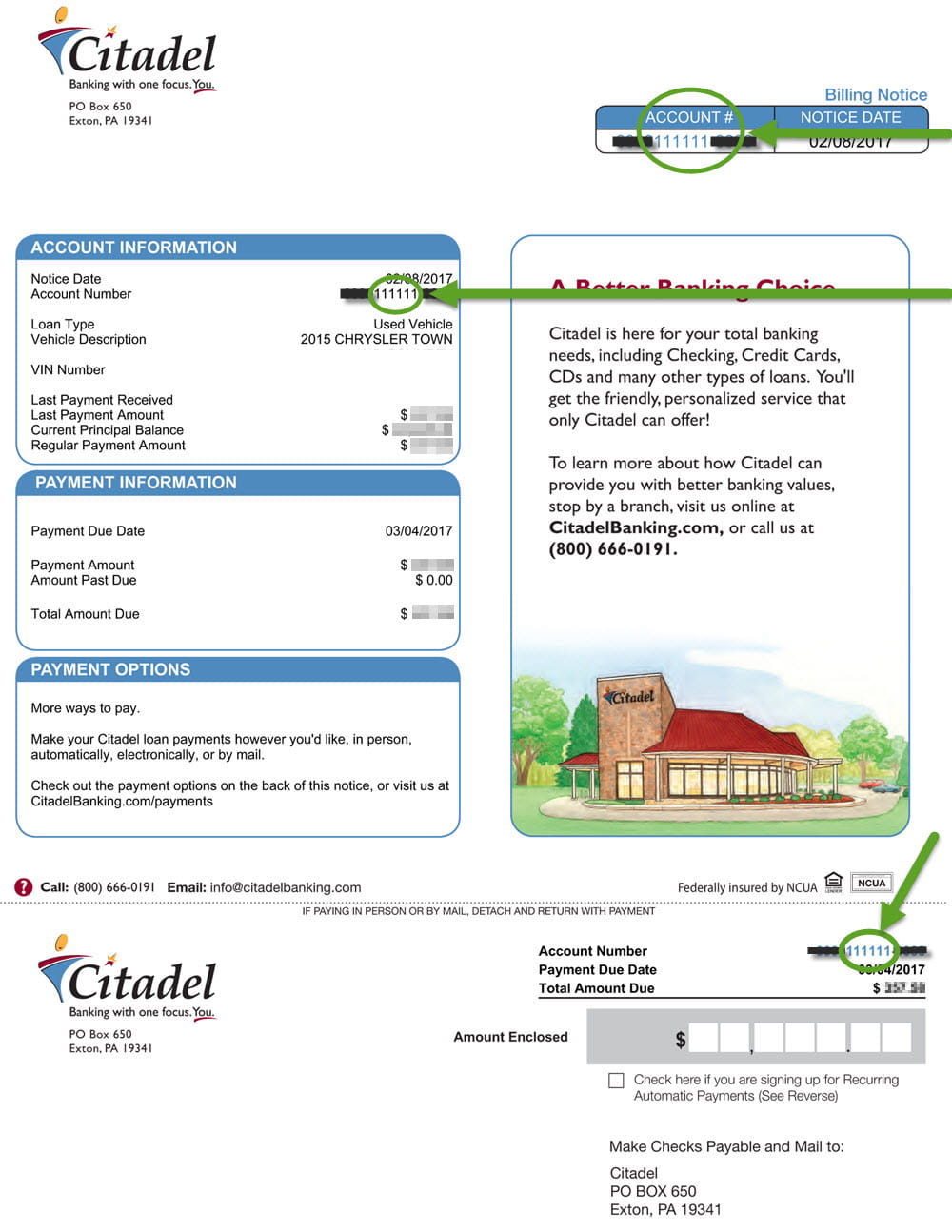 Please note that you will need the six numbers between the first four zeroes and the last four zeroes listed in the account number displayed on the billing statement. Example: 0000-111111-0000. See our Online and Mobile Banking FAQ tab below for additional details. New Auto Loan members can also find their account number at the top of their Welcome Letter.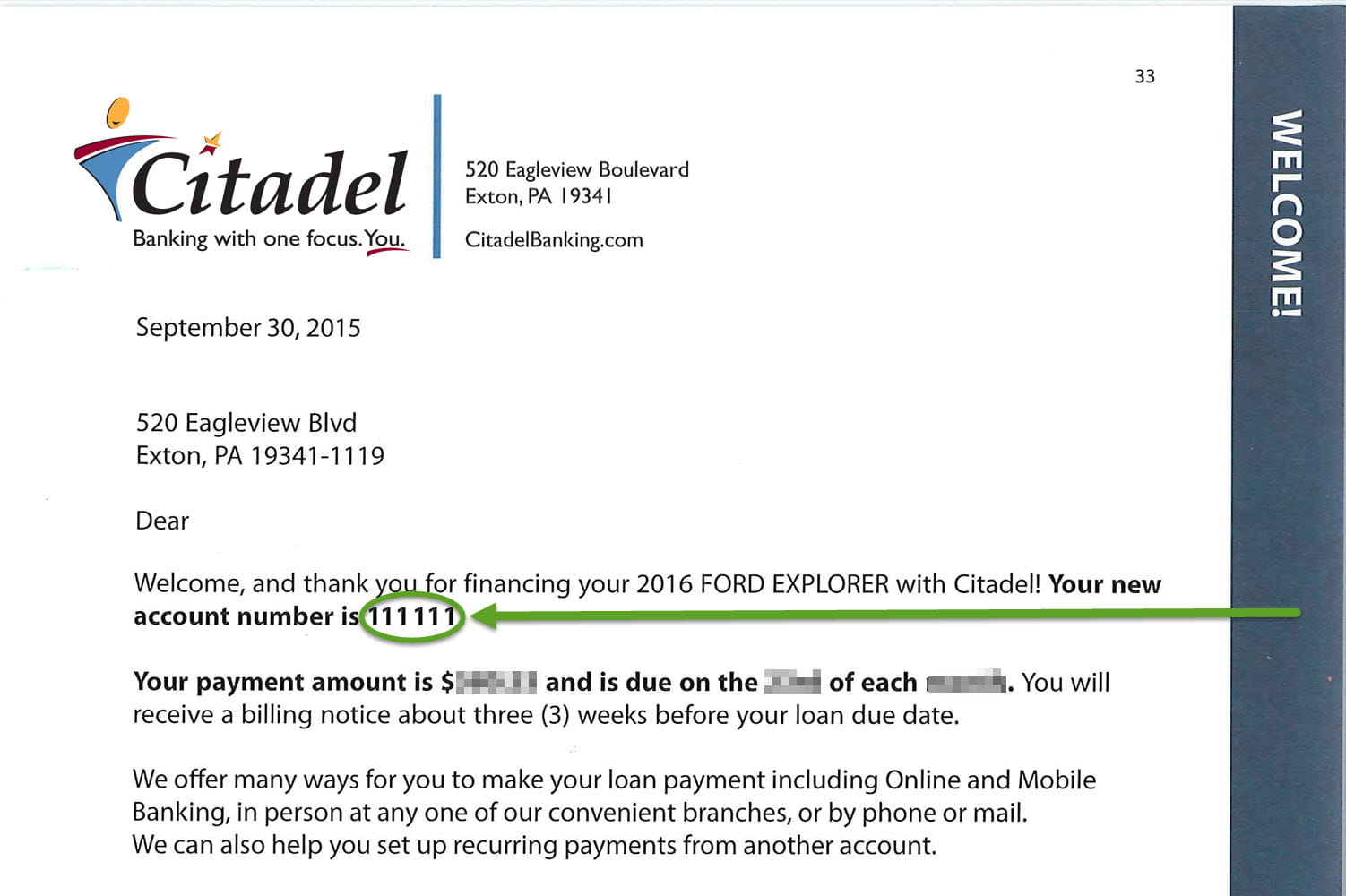 How to Pay in Online and Mobile Banking
Enroll in Online and Mobile Banking and pay your bill with your Citadel checking account or an external account. In Online or Mobile Banking, pay your new loan with your Citadel checking account by:

Selecting the Transfer Funds > Funds Transfer > select your checking account in the From field and the loan account in the To field.
Pay with an external account by simply navigating to External Accounts > Transfer Funds > Add An External Account and follow the instructions to set up an external account.
After the external account has been set up, you can transfer funds to make payments in any amount and at any time. Transfers initiated by 2:00 pm each business day will be credited to your Citadel Loan on the next business day.
Recurring Automatic Payments
Making payments is simple when you set up a recurring automatic payment. A recurring payment automatically makes payments on your schedule by transferring funds from your external account.
How to Set up Recurring Automatic Payments
You can also set up a recurring transfer from another financial institution through Online Banking, so that the same payment amount is made on the same date every month.
Or, if you're not signed up for Online Banking, you can complete the Recurring Automatic Payment Form and send it to us:
By Fax: (610) 466-6419 (ATTN: Support Services)
By Mail: 520 Eagleview Boulevard, Exton, PA 19341
In person at any Citadel branch
Debit Card or Electronic Check
Citadel offers you an option if you have cut things a little close and need to make a payment right away. For small fee, you can pay by debit card or transfer funds from another financial institution by authorizing an eCheck. Make your secure payment now.
How to Pay with a Debit Card or Electronic Check
Just click Make a Secure Payment, or call us at (800) 666-0191. It's easy and fast! Payments will be accepted and posted 7 days a week, 365 days a year and will post at approximately 9:00 PM every day.
At a Citadel Branch
Stop by any Citadel branch to make your payment. We'll be glad to see you!
How to Find the Closest Citadel Branch or ATM in the App
Tap ATM/Branch Locator from the menu within the mobile app.
A new window will open that will allow you to refine your search, zoom and get directions.
Tap Download To GPS to send the results directly to your mobile GPS application. Tap Done to return to the main menu.
By Mail
Mail your new loan payments directly to Citadel.
Where to Mail Your Payment
Mail your payments to:
Citadel
P.O. Box 650
Exton, PA 19341
Open a Citadel Checking Account and receive $250 in Bonus Rewards
Learn More
Download the Citadel Mobile app for Apple devices!
Download Now