Financial Tips for a Stress Free Wedding
Category:
Getting Married
Topic:
Saving Money
Personal Finances
Budgeting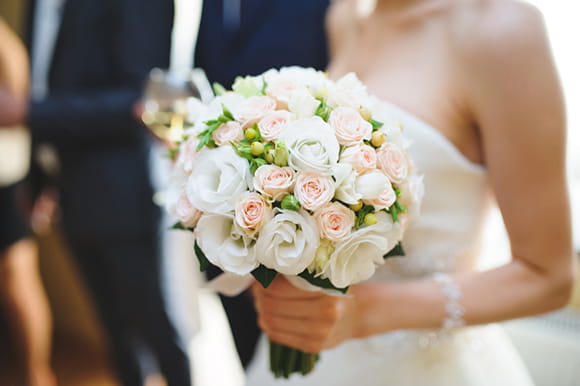 Your wedding is supposed to be the happiest day of your life, yet for many couples, the planning and financing process that comes with tying the knot can be a source of stress. However, this doesn't need to be the case. There are many ways to plan and pay for your wedding that will ensure you can have the wedding of your dreams whatever your budget.
Marry During the Week
Most couples marry on a Saturday. There's no question that's the most convenient day of the week, as it allows the reception to go on into the early hours of Sunday morning. Unfortunately, Saturday is also the most expensive day to wed. Moving your wedding to Friday evening still permits plenty of after-hours partying, while midweek weddings are often far more negotiable when it comes to price. Additionally, marrying midweek can be helpful for those wanting a smaller and more intimate ceremony, as in many cases only close friends and family will commit to taking the time off work to attend.
Marry in the Off Season
Unless you're set on becoming a June bride, marrying in the off season can save you a lot of money. Fall and early spring weddings usually mean good weather and much better deals due to these dates being less popular. This also means you will have a greater chance of securing your dream venue, which also translates to a lot less stress.
Choose an Inexpensive Venue
Unless you always dreamed of a church wedding, consider having the wedding ceremony and the reception in the same space. Not only will this option ensure you don't have to put down two deposits at two different locations, but it allows you to save time and money on transportation costs.
One of the most important ways to ensure a smaller wedding bill is to find a venue that doesn't force you to use their vendors. If you aren't locked into their people and prices, you can save by choosing your own caterer, buying your own alcohol from a wholesale store and finding your own DJ. Before choosing a venue, make sure you get all the information about their vendors and arrange to meet with them to personally discuss your needs and expectations.
Rather than pay top dollar for a venue, consider holding your reception at a good restaurant. This may not work if you're inviting 200 people, but it offers big savings for smaller weddings. You can look to negotiate a restaurant buyout to obtain an affordable and intimate space, then instead of worrying about catering, cutlery and the rest, your guests can simply order off the menu. If you are hosting a larger wedding, look into renting a home with a large backyard and putting up a tent for food and dancing.
Earn more and reach your savings goal faster with a Citadel High Yield Savings Account.
Learn More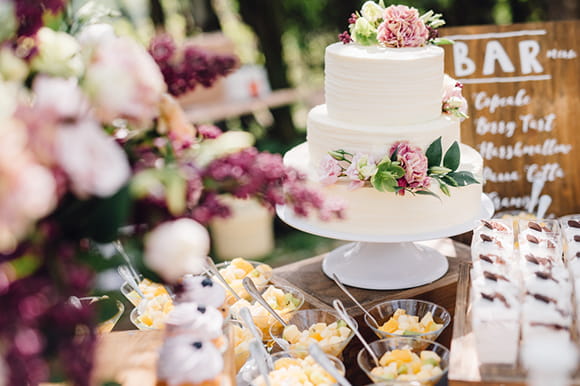 Take the Time to Build Your Savings
If you're paying for all or most of your wedding yourselves, time is your friend. A two-year rather than one-year engagement gives you another 12 months to save. During that time period, you'll also celebrate birthdays and holidays, so let relatives know you are saving for the wedding and would prefer cash as gifts to help pay for the expenses.
You can also help your savings grow by examining your budget and identifying unnecessary items that you can forego for a while, including expensive holidays in the lead up to your wedding. It's also worth taking a look at the furniture or appliances you never use and selling them online. If you have the time to take on a temporary second job, this is also a worthwhile way to bring in some extra money in the short term. Take all of this extra money and deposit it into a bank account with high returns, which will help you to meet your goal even faster.
Make Financially Realistic Choices
You can also save money on your big day by enlisting your friends and family to help with some tasks that would usually require outside help. For instance, rather than purchasing decorations, make your own. Arrange your own flowers and make your own bouquets, and send out electronic invitations rather than printed copies.
There's nothing wrong with a big celebration to commemorate your love. Just make sure you aren't digging a financial hole that can take years to fill. Many married couples eventually want to buy a home and many want children, so before any deposits are put down, discuss your long-term goals with your fiancé to make sure you're both on the same page. You don't want bills from your wedding to interfere with what you plan to do once you're actually married, including your honeymoon.
For more help taking the financial stress out of your big day, contact Citadel today. We offer financing for every situation, and can help make your wedding dreams come true.
Photo Credits: Shuttterstock / Andrei Zveaghintev, Shutterstock / dfrolovXIII
Borrowing the money you need is simple with a Personal Loan from Citadel.
Compare Optioins